Whether you are remodeling your bathroom or building it from scratch, there's something that matters more than the style and outlook of your bathroom. While the design and appearance of the tub make your bathroom look more attractive, it doesn't promise the functionality or longevity you'd want from a bathroom fixture.
Why Knowing the Bathtub Water Capacity is Important?
Knowing the amount of water your bathtub can hold may not be as important for most homeowners. It is fundamental for every bathroom build and renovation. Bathtubs can be heavy, especially when they are filled to the brim adding extensive pressure on the flooring. A standard bathtub with a 100-gallon capacity will exert a load of 800 pounds on the floor, excluding your own and the bathtub's weight.
What makes the information even more vital is the environmental aspect. Bathing in a bathtub usually requires more water than taking a shower, thus hurting the natural water reservoirs underground. As we move toward environmentally friendly living, people are getting more conscious about excessive water usage through a bathtub. Many have preferred installing a relatively smaller bathtub in their rooms to cope with the current circumstances.
If you are one with a similar ideology and preferences, you might be wondering how much water a bathtub holds. And that leaves us with four common types of bathtubs and their water capacity.
Straight Bathtub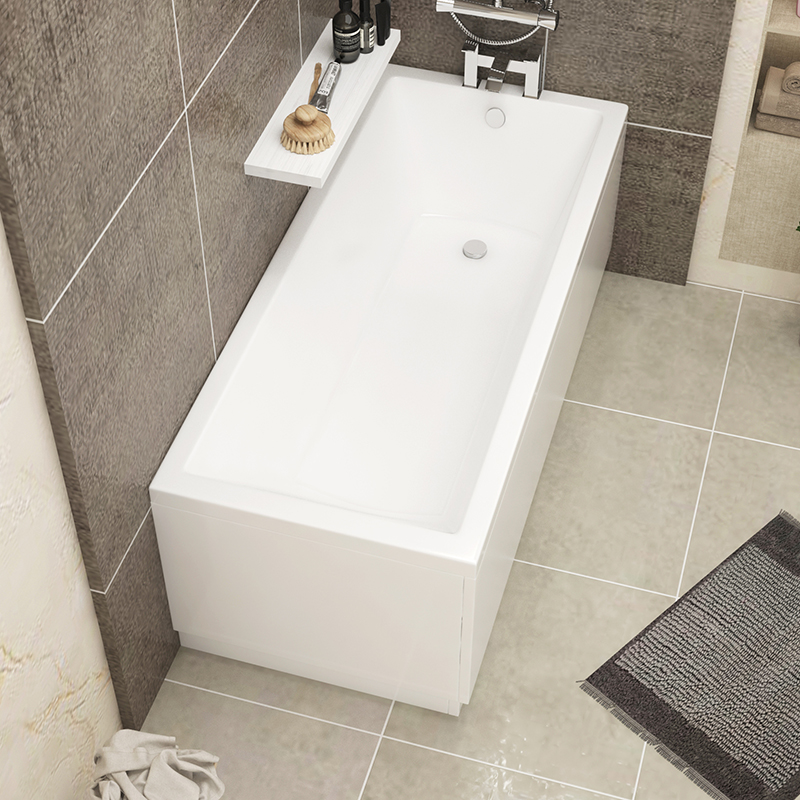 Probably the most commonly installed straight bathtubs bring a touch of modernity and sleekness to the bathroom. Featuring a sleek and compact design statement, these bathtubs are suitable for both family and en-suite bathrooms. With their simplistic design construction, they are as easy to install and maintain compared to other tubs.
Straight baths come in single and double-ended types with both sharp and smooth styles featuring a standard length of 1500mm or 60 inches. Similarly, with a compact 800mm or 32-inch width coupled with a 450mm or 18-inch depth, the tubs are perfect for small bathrooms. Besides, the tub can hold water between 41 and 98 gallons of water, depending on your physique. If you are a large guy, better keep the water level lower, so it doesn't pop out when you hop in.
Shower Baths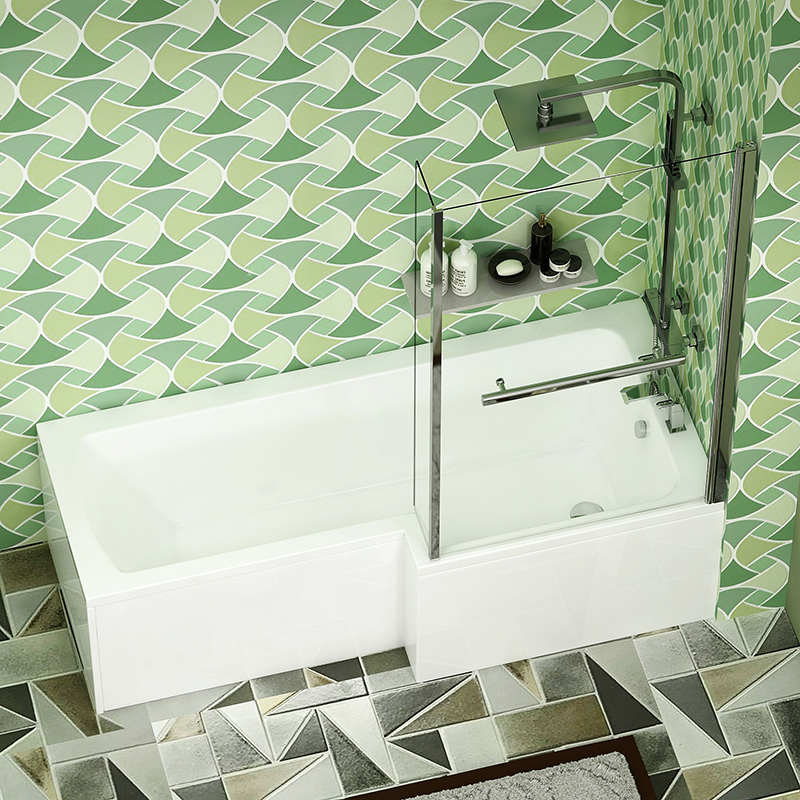 Take a step towards luxury with the shower as well as drop-in bathtubs – a sensation in the bathroom interior design. Embedded in the floor, the bathtubs give you the opportunity to enjoy both shower and baths in a single fixture, while drop baths are designed for a spa-like experience. Considering different designs and style shapes, you can find one that matches the style of your bathroom.
The acrylic construction makes it no less than a jacuzzi at a fraction of the cost. These usually come in compact shapes and sizes, measuring 1500 mm in length and approx. 750 mm in width, the tub suits a wide small body shape. Drop-in bathtubs can carry up to 50 gallons of water on average. However, bigger sizes offer better capacity.
Freestanding Baths
Freestanding bathtubs are a long-standing name of luxury and opulence. Typically found in traditionally styled bathrooms, designed after the classic Victoria architecture, the tubs are designed for larger bathrooms. They usually stand on a sturdy base ringed alongside the edges of the tub, raising it a foot above the floor.
As for its water holding capacity, it depends on the size of the tub. However, the standard size for freestanding bathtubs is:
Length 1800– 2000mm.
Width 700 – 1000 mm
Height 500– 800mm.
Given the dimensions, Freestanding bathtubs carry up to 90 – 100 gallons of water on average or, in other terms, 340 – 380 liters. The water carrying capacity is usually less than the described capacity as it should have enough room for a person to bathe in.
Clawfoot Baths
A true depiction of class, opulence, and vintage in a single bathtub accessory – Clawfoot tubs lead the way when it comes to ageless bathtubs. Unlike freestanding bathtubs, Clawfoot tubs stand on four brass feet that hold the tub in place. If installed in a bathroom, it captures your attention as soon as you enter the room. Due to its grand design, the bathtub is meant for bigger bathrooms. Let's understand the dimensions before we figure out its water holding capacity.
The length of clawfoot tubs ranges between 1300-1500mm. Whereas the width measure somewhere around 700 -1000mm. Given their opulent design and stylish outlook, the clawfoot tub has low water carrying capacity than freestanding ones. The tub carries up to 40 – 60 gallons of water, making it an appropriate choice for environmentally conscious users.
FAQs
How Much Water Does a 5ft Bathtub Hold?
How much water a bathtub may hold depends on both its width and length. The standard 5ft bath in the UK holds around 80 gallons or 300 liters of water. The water capacity reduces with the size of the bath.
Do Baths Use More Water Then Shower?
The use of water during the shower depends on the length of the shower. While a standard bath in the UK is designed to hold around 80 gallons of water, the average five minutes shower will use in between 10 to 25 gallons of water.
How Deep is the Average Bathtub?
The depth of the bathtub may vary depending on the type of bath you choose. However, when we discuss a standard bath in the UK, it can be around 350mm to 450mm. How in other countries like Japan and other countries, bath usually has more depth in the bath. In addition to that, some types of freestanding baths may also have more depth than the standard bath.
What is the Average Shower Time?
A recent survey on UK Shower habits reveals that most people (62%) take a shower once a day. The average time spent in the shower is around 7-8 minutes. It is similar to CDC's statistics that show that the average shower lasts about 8 minutes.
Are 5 Gallons Enough for a Shower?
The 5 Gallon of water is roughly a small bucket that, with an average shower speed, will last for around 2 minutes. You may prolong it by slowing down the shower that, may add a minute a so into it. Whether it's enough or not depends entirely on you, but it will potentially save around 10 to 20 gallons of water.
What is a Good Size for a Soaking Tub?
Soaking bathtubs are particularly designed for a long, highly relaxing, and comfortable bath experience. They are deeper than the standard bath and hold more water into it. The purpose is to offer you a full body soaking experience. Where a standard bath in the UK has an average depth of 300mm, the soaking tub comes with 350mm or more depth.
Soaking tubs are designed for long, comfortable soaks, so they're deeper than the typical tub. Standard tub depths allow for approximately 12" of water; soaking tubs should offer at least 14" or more so that the water covers the majority of the bather's body