Do you want to transform your old bathroom into a modern space? Or simply want a great looking trendy new bathroom that suits your lifestyle. If you are unsure what's new and what to look out for a modern bathroom looks. Then our blog is the right place for all the information you need about the latest bathroom suites ideas.
Whether you are looking to upgrade a cloakroom or family bathroom, your choice of bathroom suite will ultimately affect the overall looks of your bathroom. Designed to create a consistent look throughout, a typical bathroom suite consists of a matching toilet, sink, bath, or shower enclosure.
At Royal Bathrooms, we believe you can easily create your dream bathroom with trendy fittings that match one another. Therefore, we come up with the latest bathroom set ideas that will transform the entire space.
Space Saving Cloakroom Suites Ideas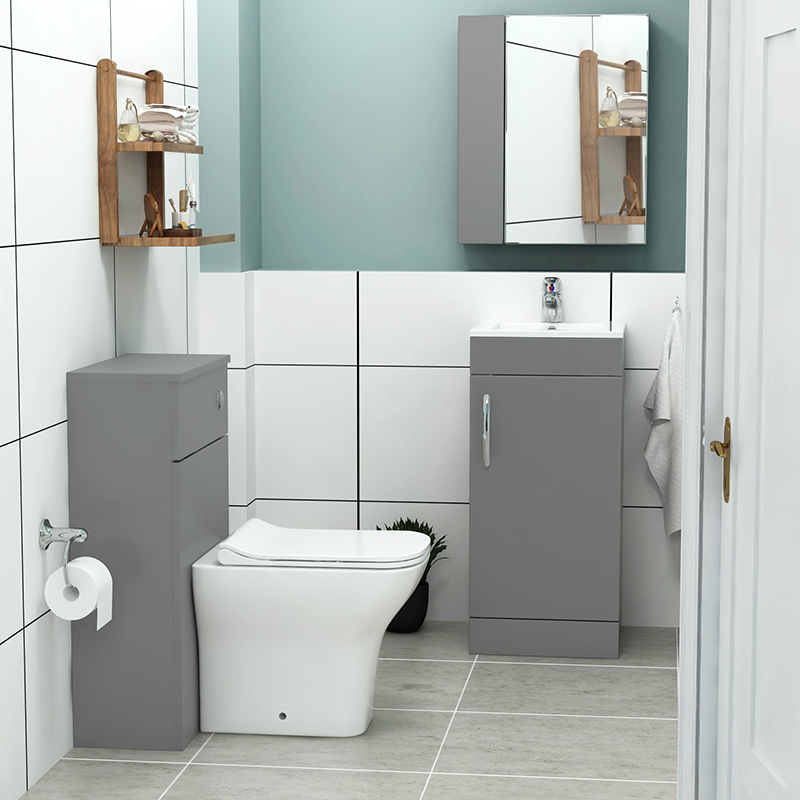 Your cloakroom downstairs also needs equal attention. Why not turn your small bathroom into a stunning and practical space? You will need a cloakroom suite that can help you to make a big impression even in a small space. Keeping in mind the ongoing minimalist trend, we present a 400mm indigo Grey Gloss wall hung vanity sink unit, and an Abacus wall hung toilet in a single package.
These are genuinely space-saving fixtures that will create elegant and modern looks in the bathroom. The square design storage and round shape modern toilet bowl makes a great first impression as someone steps into your space. In case you want your space to look brighter, then the same cloakroom suite is also available in gloss white as well.
Toilet and Basin Suites Ideas
If you are interested in a trendy toilet and sink in a simple package, then our toilet and basin suites can be an ideal choice for you. Getting all the fixtures from the same range will help you to create the look you want. By choosing such perfectly matching items, you can narrow down your choices based on various factors like styles, functionalities, price, etc. For example, you like a toilet from our range but are not sure which basin will pair with it. One of our Toilet and Basin Suite will solve your problem of creating a consistent look in your bathroom. It as simple as that!
In the last year and the next, curved lines on toilets will continue to be the top pick because of their attractive looks. If saving space is not your priority, then our close coupled toilet and 610mm pedestal basin in a single package offer a trendy look. The rimless toilet bowl makes cleaning easier, while a round shape sink has always been on trend to create a perfect bathroom.
Family Bathroom Suites Ideas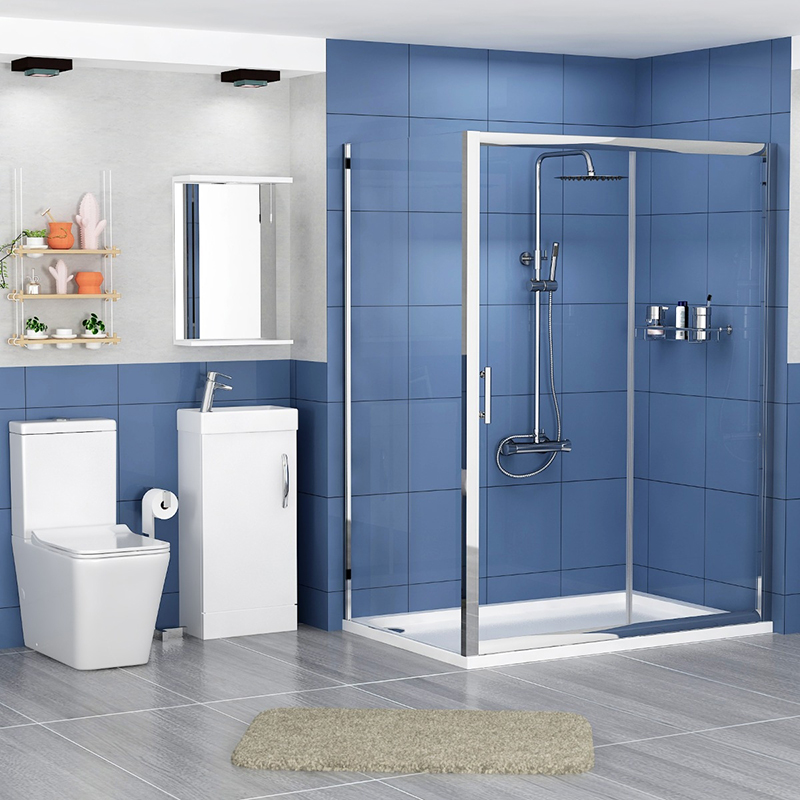 A top trend for a family bathroom is coordinated looks. It helps create a luxurious and flawless tone. So, it's all about a consistent theme that runs throughout the bathroom. In addition to that, you should not ignore the comfort as well. According to the latest trends, the perfect bathroom will require you to create a balance between aesthetics and practicality.
If you are interested in creating a look that matches designer bathrooms with a luxurious finish, you should explore our different combinations of bathroom suites. To match a multitude of aesthetics and functional needs, we pieced together a variety of combinations. So, you can create your dream bathroom easily.
Shower Enclosure Suites
Our shower enclosure suites offer different combinations of shower enclosures, trays, toilets, sinks, and vanity units. Depending on the type of suite you choose, these sets offer you everything you need to make your morning shower routine feel like a dream. All our fixtures included in this suite are loaded with the latest features. So, you don't feel the need to replace or remodel for many years to come.
With bathroom latest trends shows that openness and airy feel in the bathroom are becoming a priority, walk-in shower enclosures are expected to remain a top trend. Our shower enclosure suite featuring Marbella 700m walk-in wet room shower screen with a thermostatic shower, a vanity unit, and a BTW toilet WC unit is a perfect choice for a modern look and feel.
Straight Bath Suites and Shower Bath Suites
Since most bathrooms are small spaces, the combo shower baths have been a top choice in the last few years. This trend is expected to continue in as well. Most people like acrylic baths due to their reasonable cost and durability. Our straight baths are very popular due to their regular shape and easier installation. While shower baths offer a combination of showers and baths in a single utility. Keeping this in mind, we offer these bathtubs in different combinations of other fixtures. So, you can easily get everything you need for your bathroom in a single package.
For on trend bathroom looks, you can choose our shower bath suite with Abacus p shaped bathtub, floor standing vanity unit, and BTW WC toilet unit. The p shape round at one end is consistent with the round shape toilet bowl. While Grey Elm freestanding vanity and BTW WC unit can create perfect on-trend looks with Grey tiles around the bathtub.
Small Bathroom Suites
Not everyone has the luxury of large bathrooms. But that should not stop you from creating your dream bathroom. The latest trends for small bathrooms are all about creating a perfect bathroom by increasing the practicality without compromising on aesthetics. The dark tone is grey elm finish for all types of bathroom furniture is preferred instead of pure white. While wall hung, the style has always been on trend for small spaces. In addition to that, due to the growing need for storage, more focus will remain of installing compact vanity units or tallboys.
Our small bathroom suites include different sets of compact toilets, basins, and bathtubs, etc. With ultimate space-saving designs, these will help you have a fabulous bathroom even in a small space. In addition to that, all of our suites include fixtures with modern features, so you can enjoy both superb functionality and style without making any compromises.
For a truly on trend small bathroom, you may consider our Cloakroom suite that includes an 800mm wall-hung Turin Grey Elm wall hung vanity unit, a tall boy unit, and a stylish Corsby BTW toilet pan.
Bathroom Furniture Packs Ideas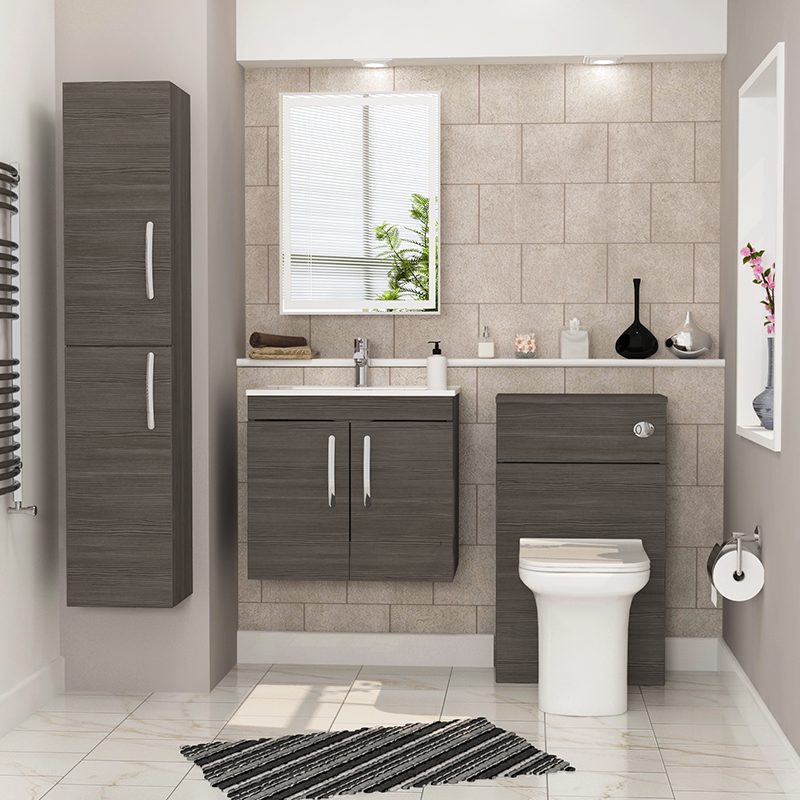 Bathroom furniture will continue to be the most desired fixture for every bathroom. Top designers predict that warm natural undertones will be on trend this year. Therefore, we have created various paired matching oak beechwood and grey elm cabinets, vanity units, and sinks in our bathroom furniture packs. These can be a great choice for those who are not looking for a complete bathroom suite.
For truly on trend bathroom furniture, you may choose the Turin Beechwood wall-hung vanity unit with a square countertop sink. It has a natural oak finish that perfectly complements the latest natural warmer colour trend this year.
Other than that, Grey Elm furniture has been popular for many years and is not expected to go out of trend soon. Our Turin Grey Elm furniture pack with option BTW Pan & Basin can be a great choice if you want to create a modern bathroom look this year.
Shop For Trendy Bathroom Suites
At Royal Bathrooms, we believe you can easily create your dream bathroom with fittings that match one another to create a consistent look throughout. Here are the expected benefits of getting our bathroom suites.
Enjoy the consistent theme and look throughout your bathroom.
All fittings and fixtures work together seamlessly.
Save time, money, and hassle
Unbeatable Quality and Prices
Ready to take the next step? Simply visit our bathroom suites section to begin