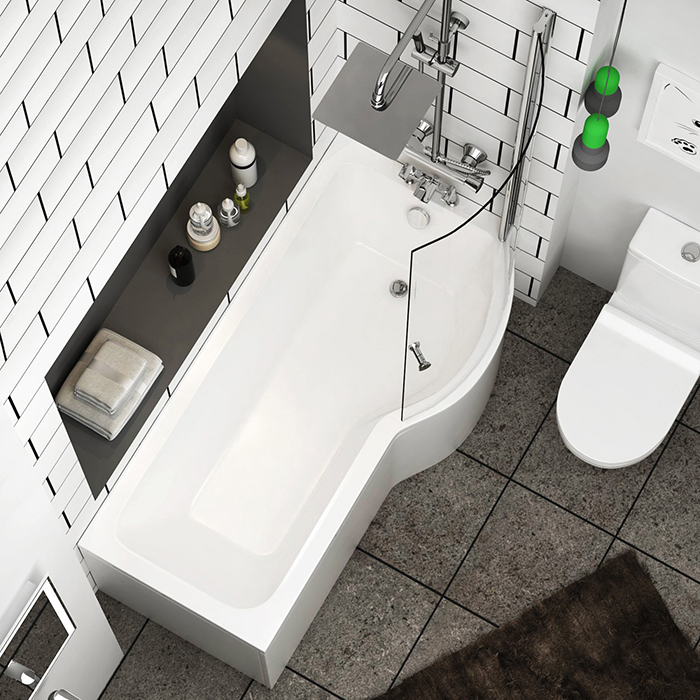 Bathtubs are often replaced as a part of a complete bathroom makeover. However, if you have a damaged or leaking bath, then it can be an urgent stand-alone task. Other than that, you may also consider a bath upgrade to improve the bathroom aesthetics, comfort level, or help someone with mobility issues.
In case you are planning for a new bathtub fitting, then it will be worthwhile to have an idea about the costs to replace a bathtub beforehand. So, you can keep it within budget.
How Calculate the Costs to Replace a Bathtub?
The calculation of a new bathtub installation cost is not simple as it may seem. There are various factors that affect it. The most important ones among them are the price of a bath and its installation cost. Both components vary significantly depending on the type of bath you choose. For example, it will be higher for the floor standing baths in comparison to fitted baths.
Before we get ahead with our cost estimation, here are a few things that you should consider for an idea about it.
What type of bathtub are you planning to install?
What material for a bathtub do you prefer?
Do you already have a bathtub installed? If yes, then how much time will it take to remove it? ( labor cost)
Does it require additional plumbing work? (Changes in existing plumbing)
Here we have created an estimated cost table while considering all the factors. The actual cost may differ depending on your location and whether it is a replacement or new bathtub installation.
Bathtub Type
Type of Bathroom
Time Required for Fitting
Estimate Bathtub Costs
Estimate Labour Costs
Estimate Others
Estimate Total Costs
Straight Bath
Small/Medium
3-5 Hours
£200 - £650
£100 - £200
£100
Mixer Taps & Waste
£400 -£950
Shower Bath
Small/Family Bathrooms
3-5 Hours
£250 -£850
£100 - £200
£100
Mixer Taps & Waste
£450 -£1150
Floor standing Baths
Family Bathrooms
3-5 Hours
£500 -£5000
£100 - £200
£100
Mixer Taps & Waste
£700 -£5300
What Accessories Do I need That May Increase the Costs?
In addition to those costs discussed above, a few accessories may also increase the costs.
Bathtub Panels. These are usually supplied with a bathtub. But if these are not included, or you want something different from the standard claddings, then it may increase your costs by around £100 - £40 The costs depend on the number of panels you need and their materials. For example, a standard acrylic bath panel will cost less in comparison to a wood panel.
Bath Mixer Taps or Shower Mixers. We have added the costs of bathtub mixers to our table. However, if you want to install a shower bath, it may require an overhead shower or a bath mixer shower attachment that may increase the costs.
Shower Screen. It looks great with a shower bathtub. Not only does it prevent water splashes, but it also improves the look of the bathtub. It may cost around £100-£200 depending on the type you choose.
Other Things to Consider
It is important to keep in mind a few other things too.
Your bathroom size may impact the time required for the installation. That is due to difficulty working in a small bathroom compared to the large space.
You should always consider the possibility of unforeseen complications during installation. For example, a rusting pipe may need a replacement or difficulties in removing the fixture that is already in place at the place of installation.
It is important that you hire a reliable plumber who knows what he is doing. In addition to that, you must ensure your presence during the whole process.
Final Thoughts
The cost to replace a bathtub depends on various factors. We have covered almost all these elements in detail and provided an estimated cost. While you can easily get an estimation from a bathroom fitter, the actual costs may vary significantly. Therefore, it is recommended that you create your own estimation with the help of our bathtub installation cost guide.
FAQS
Are bathtubs easy to replace?
The bathtub replacement is a highly labor-intensive project. It may involve various complications. From removing an old bathtub to making the pipe connection, it requires a lot of difficult tasks to complete.
How long does it take to install a bathtub?
The time requires for a bathtub installation depends on various factors. The skills and experience of the person installing it to whether removal of an old bathtub and bathroom size all have an impact on it. Generally, it should not take more than 3-5 hours. But in case of unforeseen complications, it may go up.
When should I replace my bathtub?
You should consider a bathtub replacement if you notice any damages, leaks or mold, or mildew problems. Other than that, you may also consider it if you want a better experience in terms of usage and aesthetics.
Can you replace a regular tub with a soaking tub?
A soaking tub is usually deeper but shorter in length in comparison to a regular bathtub. Therefore, if you want a replacement, major plumbing and fitting work will be required.
Is it OK to replace a tub with a walk-in shower?
There is no problem in replacing a bathtub with a walk-in shower. Perhaps, such open showers are becoming more and more common due to the popularity of barrier-free living.