With Valentine's Day coming up, no one can live without a bit of romance and intimacy. Whether you are under a cozy blanket or in a warm bath, it can always be intimidating to share that moment with someone special.
Let's imagine you are with your special someone in the bath, surrounded by scented candles and soothing music is playing in the background, with some chilled fizz to relax; it would feel lovely, right. It may appear somewhat ridiculous or unnecessary for someone who considers baths private and sacred.
But for those who have a real heart and are trying to experience intimacy, this can be perfect. However, there are chances your current bathtub size may not allow you to have a lovely time.
The average bath size installed in UK households ranges 1700mm x 700mm. But if you consider the average size of males and females that goes about 1750mm x 1620mm respectively, the tub size is not ideal for a couple.
Fortunately, for those looking to seize the opportunity, there is still some time left in Valentine's day. In this article, we will introduce you to some perfect baths you can share with your partner, along with some other tips to make your time enjoyable.
Why Share a Bath?
Well, the idea went past the invention of valentine's day and was popularized by the British government itself. To promote the safe use of water, the government in 1976 raised the slogan "save water, bath with a friend." The concept demanded that both partners bathe together to prevent water wastage.
Although the idea scaled its way on behalf of t-shirt prints and bumper stickers, it picked up pace in recent times under the banner of romance and, of course, valentine's day. Regardless of the save water concept, there are other advantages to it as well, such as:
Low energy consumption – a 20-minute-long hot and steamy bath can take a toll on your energy consumption bills (especially heating). And if you make that double (for you and your partner), the bills will multiply as well.
Time Saving – instead of bathing separately, bathing together can help you save time. Meaning you won't have to wait for your turn while your partner is inside having a good time.
Bonding with your partner – In a fast and busy life, there aren't many occasions that allow you to relax and enjoy some time together with your partner. While you are inside the bath with your loved one, there'll be sufficient time to help unwind your day.
Perfect Baths for Perfect Couples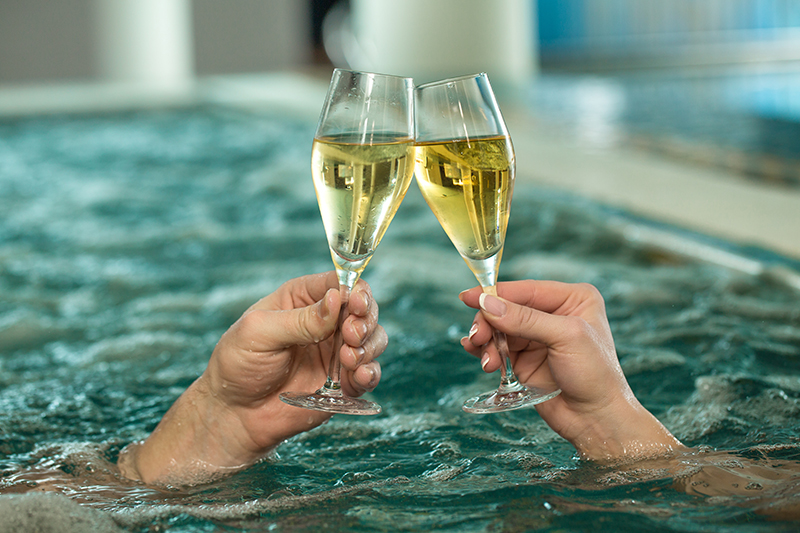 First things first! A bathtub made for couples is comparatively bigger than standard baths, measuring 1800mm x 800mm. Double-ended baths are the popular option among most UK households.
Unlike standard baths, they have water outlets, waste pipes, and plug holes at the center of the tub allowing both individuals to sit face-to-face. The sides or ends are made slightly sloped and slanting offer a comfortable posture for couples to sit and relax.
Double-ended baths do not require you to have large, spacey bathrooms. Out of their wide range of options, there are straight ends that can neatly fit into corners or in-between two walls. Double-ended whirlpool baths can be a perfect option if you yearn for a luxurious experience.
Important Considerations When Buying a Double Ended Bathtub
There are a few important matters that you should consider before buying a bathtub that is suitable for a couple.
Material: The baths come in a variety of materials. Each of these has its own pros and cons. It is important to choose a bathtub with material that can improve the comfort so you can enjoy your relaxing time. If you have a limited budget, then an acrylic double ended bathtub can be a suitable option as it retains heat, keeping water warm for a long time. Other options may be stone resin, cast iron and copper baths that also offer the same advantage in addition to better build quality.
Budget: The price of a bathtub highly depends on its material and style. If you have a limited budget with limited space in the bathroom, then you should opt for a fitted acrylic double ended bathtub. Otherwise, a freestanding double-ended bathtub usually available in-store resin, cast iron or copper may be the perfect option to make your bathtub highly rejuvenating.
Bath Panel and Shower Screen: You can make your bath experience even more comfortable by adding a shower screen that will prevent water splashing making your bath floor less messy. The good quality acrylic or wood bathtub panels can also make it more alluring.
Romantic Bath, Some Other Way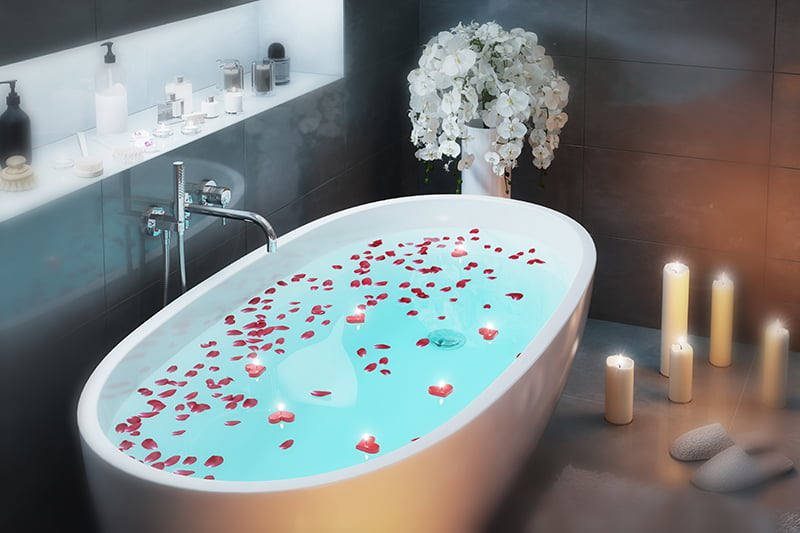 Warm, relaxing, and long baths are not everyone's cup of tea, especially for a daily routine. If you have the same thoughts, a bathtub won't suffice your needs alone. This leaves you two options:
Bath and shower enclosure – if you have some extra bathroom space to play with, it would be nice to have both bathtub and shower enclosures installed in the same room. Not only does it offer you choice, but it also allows both partners to shower the way they want when they want.
Shower cabin – if you are more inclined towards a shower, double shower cabins can offer you and your partner an out-of-the-world showering experience. Apart from the space for two individuals to shower, the cabin is laden with options like steam mode and mood lighting, making your shower fun, refreshing, and romantic.
Final Thoughts
A sensual bath in a 1800mm x 800 double-ended bathtub can be a great way to spice up your romantic relationship this valentine. You can consider installing it if you don't have one yet. So, you can enjoy them whenever you like. Why not consider placing an order for one of your favorite baths from Royal Bathrooms?