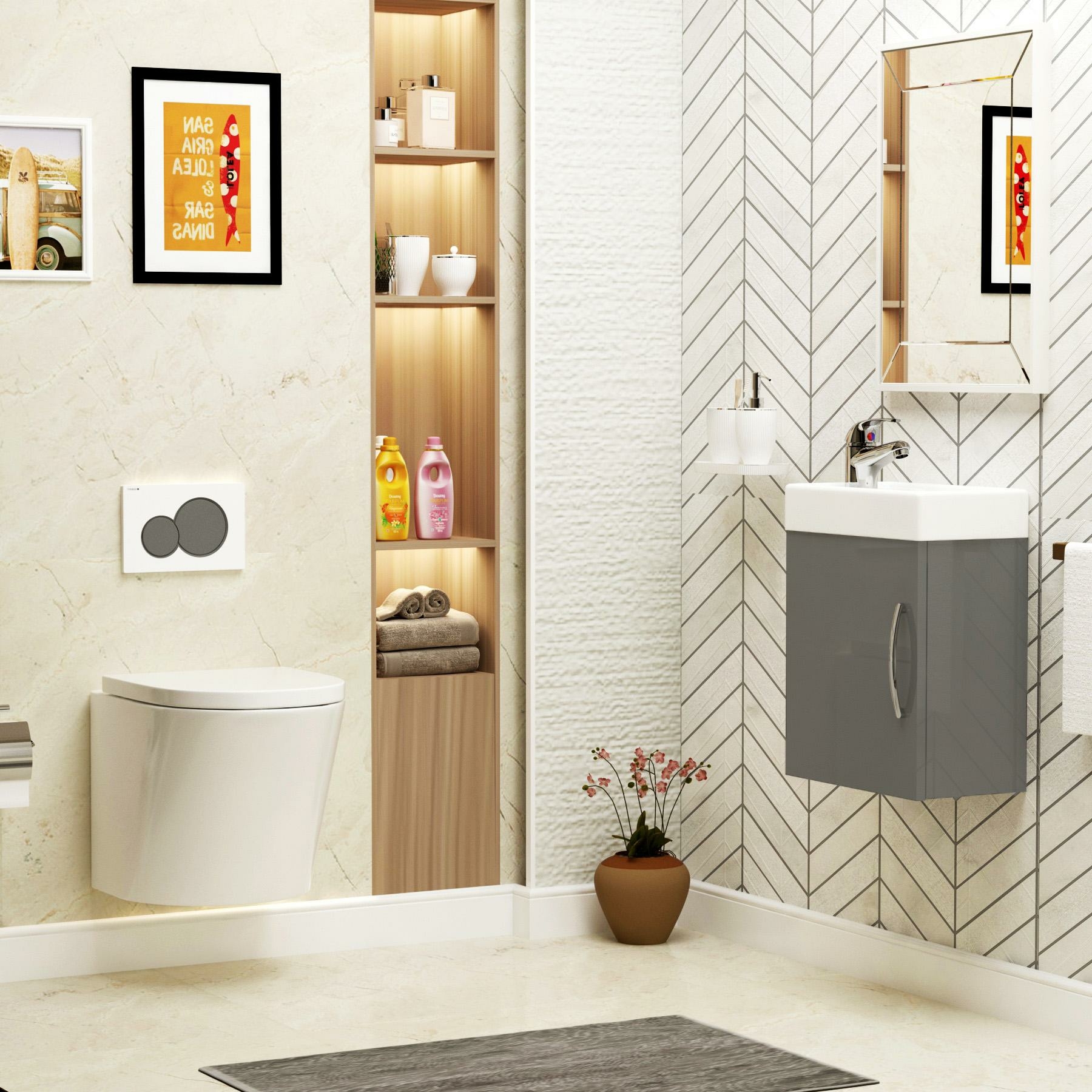 The wall hung toilets are becoming a popular choice for contemporary bathrooms. Their unique floating appearance creates a lavish and opulent feel. Our blog explains how these are different from an ordinary toilet in working. And the things that you will need to consider before buying the one.
Though wall hung toilets have a different design, they share many of the same features as their standard counterparts. Whether you plan for a bathroom renovation or an entirely new build, these are modern alternatives to a standard toilet. Also known as floating toilets, these are plumbed into the wall with all the pipe works hidden in it. Here is how wall mounted toilets work?
Wall Hung Toilets Vs. Standard Toilets
These wall mounted toilets have the following features that make them different from a standard toilet.It is a partially hidden toilet where the only bowl is visible. Therefore, there are multiple designs of bowls available in different shades and ceramic finishes.
The wall hung toilet has three distinctive components, so you have an option to pick and choose the type of bowl you want to install with the carrier frame.
Due minimum footprint in the bathroom, you can save at least 12" inches of space.
Since the cistern is inside the wall, it has a quitter flush system.
The concealed cistern makes it easier and hassle-free to keep the floor clean.
Different Parts and How These Work Together?
The wall hung toilets generally have three main components.
Toilet Pan
Cistern
Carrier Frame
The first thing that you will notice about the wall hung toilets are their different design from the others. These design changes are important to make them fit into the wall. For example, the bowl is installed against the wall to float and has no pedestal linking it to the floor. While the cistern mounts to a metal carrier frame from inside the wall. So, both bowl and cistern are secured in the same way to the hidden frame as their traditional counterparts. There are a few important things to consider before thinking about installing the wall hung toilets
The Strength of the Wall and Carrier Frame
The frame that holds the pan and cistern is fixed inside the wall. Therefore, your wall must be sturdy enough to support the installation. If it is weak or damaged, then the weight capacities will decrease. From breaking the wall to fixing a solid metal frame that will bear the weight of around 500 pounds will have a considerable strain on it. In addition, the quality of the supporting frame, brackets, and bolts also plays an important role overall strength of the structure.
Another thing that matters most is proper and complete installation. Unless your toilet is secured correctly in its place, there is a risk that bolts loosen due to wear and tear, resulting in a decrease in weight capacity over time.
The Weight Limits and Carrier Frame.
While the carrier frame itself weighs around 80 pounds, it must be capable of supporting at least 500 lbs. There are different shapes of frames available in the market. The amount of weight they can carry depends on their build quality and design. Therefore, you must ensure that you choose the one of good quality. It will ensure that there is not too much stress on the wall, and it remains functional without loosening up over time.
Installation Of the Wall Hung Toilet.
The installation of the wall-hung toilet is a bit complicated and requires some experience compared to other types of toilets. The quality of the installation will ultimately affect the overall sturdiness of the overall structure. It is not a weekend DIY job that you can handle yourself. Therefore, you must hire an experienced bathroom fitter.
Buy Wall Hung Toilets at Royal Bathrooms
At Royalbathrooms.co.uk, you can find your perfect toilets and all other bathroom fittings and fixtures. You can look at different product options available to help you create the type of look you want.
FAQs
Are Wall Hung Toilets a Good Idea?
Wall Hung Toilets are minimalist floating-style toilets with only a bowl visible. That looks stylish and makes cleaning a lot easier compared to close-coupled and back-to-wall toilets. You have nothing on the floor, no pipes, and no cistern that may accumulate dust, making them a perfect choice for home and public places.
Can any Bathroom have a Wall Hung Toilet?
A wall hung toilet may not be a suitable choice for every bathroom. You will need a sturdy wall on which you can fit the toilet bowl and install a cistern on the back of it. However, a standard toilet that sits on the floor has no such requirement and can fit into any space.
Which Wall Hung Toilet is the Best?
The top 3 best wall hung toilets in the UK are
Are Wall Hung Toilets a Standard Size?
Wall-hung toilets have three main components. The first is a toilet bowl that is available in various sizes. The round bowls measure around 420mm, and the elongated one's measure 470mm. From back to front, it can be around 700mm to 780mm.
The second is a cistern that fits on the back stud wall onto the frame. These frames are available at three different heights like 0.85m, 1m, and 1.2, while the depth is 160 to 200mm. Slimmer frames are available in 80mm dept and 1.2-meter height. Some of such mounted frames are adjustable to the different wall-hung unit makes.
How Much Does It Cost to Install a Wall Hung Toilet in the UK?
The cost of a wall-hung toilet installation in the UK may differ from region to region. Generally, the bathroom fitter will charge around £40-£60 per hour. The plumber will charge you depending on how much work will be required. For example, he may charge more if it involves removing the existing toilet and fitting a new one in the same place.
You may have to pay a lump sum, or full-day charge for replacing a wall-hung toilet. A complete wall-hung toilet set that includes a toilet bowl, a frame, and a cistern will cost you around £300 to £400. The plumber may charge you anywhere from £300 to £600 for installation. You may have to pay for some extra costs for the materials, such as building the wall or rerouting the plumbing, which may cost you around £50. The final costs will depend on where you live, and the kind of work involved. So, you must expect to pay around £650 to £1050.