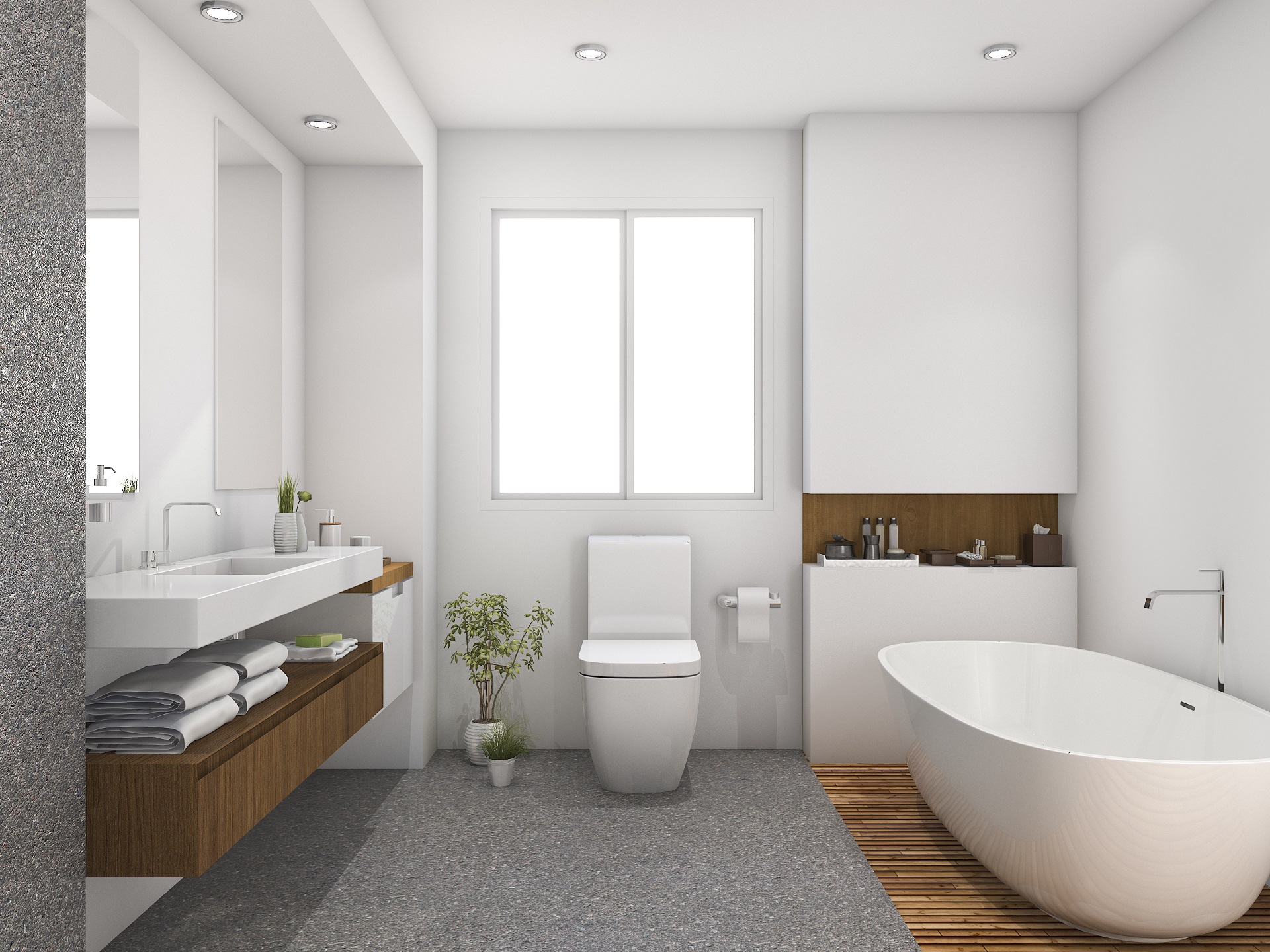 The pandemic has hit us hard and has metamorphosed our perception of 'normalcy'. Since we are almost out of it, everyone needs a quiet, calming space to relax and rejuvenate. And that's what the latest bathroom trends reveal. People want a bathroom where they can relax and respite from the chaotic world outside. But what exactly does such space look like? We have analyzed google trends and social media data to find out what people are searching for on the internet.
The searches for various bathroom remodel-related queries are up by 1900% in 2022. That means more and more people are looking for a bathroom upgrade, and we look deeper into the change or upgrade they are looking for.
Bathroom Plants - Up by 70%
The trend of planting bathroom plants is increasing. People are particularly searching for English ivy, eucalyptus, and snake plants. It seems to be stemming from last year's popular trend of "bringing the outdoors in". The indoor plants give your bathroom a touch of nature, look fabulous and improve the air quality.
Bathroom Waterproof Wallpaper – Up by 650%
It seems that wallpaper is a huge bathroom trend in 2022. So, we will see more and more people using waterproof wallpapers in their bathrooms. It may be because these are available in various designs and can make a huge impact in even a small space. The trend of neutral and classic shades are now taken over by different colors and patterns that are easy to incorporate with wallpaper.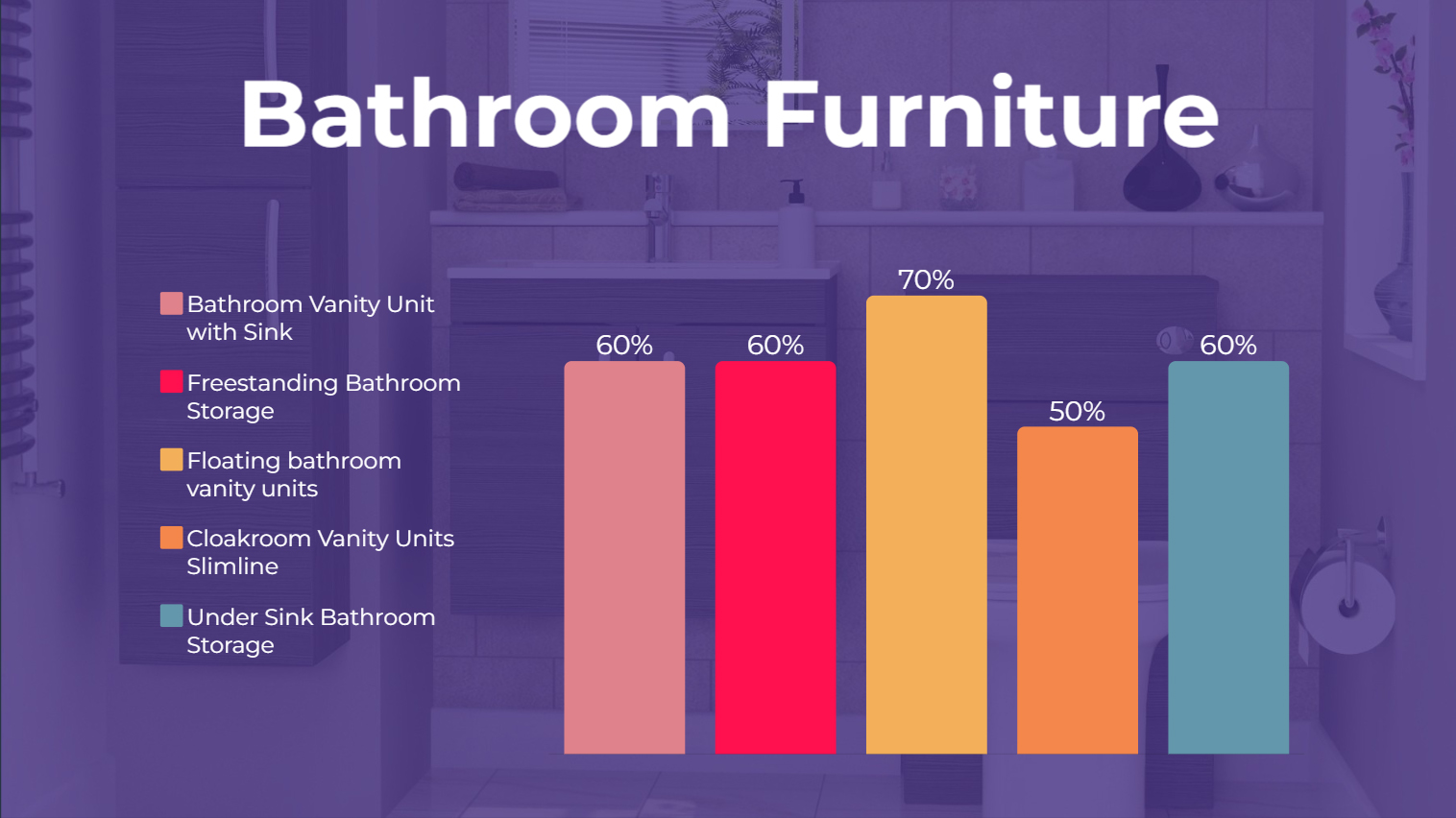 Floating Vanities – Up by 70%
It goes without saying that storage is a need for every bathroom. The search data reveals the type of bathroom storage the people are interested in. The search for a bathroom vanity unit and under the sink bathroom storage is up, followed by a slimline cloakroom vanity unit. People are particularly interested in floating vanity units that look luxurious and help them save space.
Toilets with Short Projection & Dual Flush Mechanism – Up by 300%
The search for dual flush toilets has increased exponentially. It shows people are interested in saving water to save water bills as well as the environment. Moreover, there is also a considerable increase in the search for short projection pans.
Our analysis also reveals that people are more interested in back to wall and wall hung toilets witnessed over 50% of search queries. Other then that, close coupled toilets are still trending are high in demand. However, homeowners are preferring them with modern features like dual flush mechanism and short projection toilet.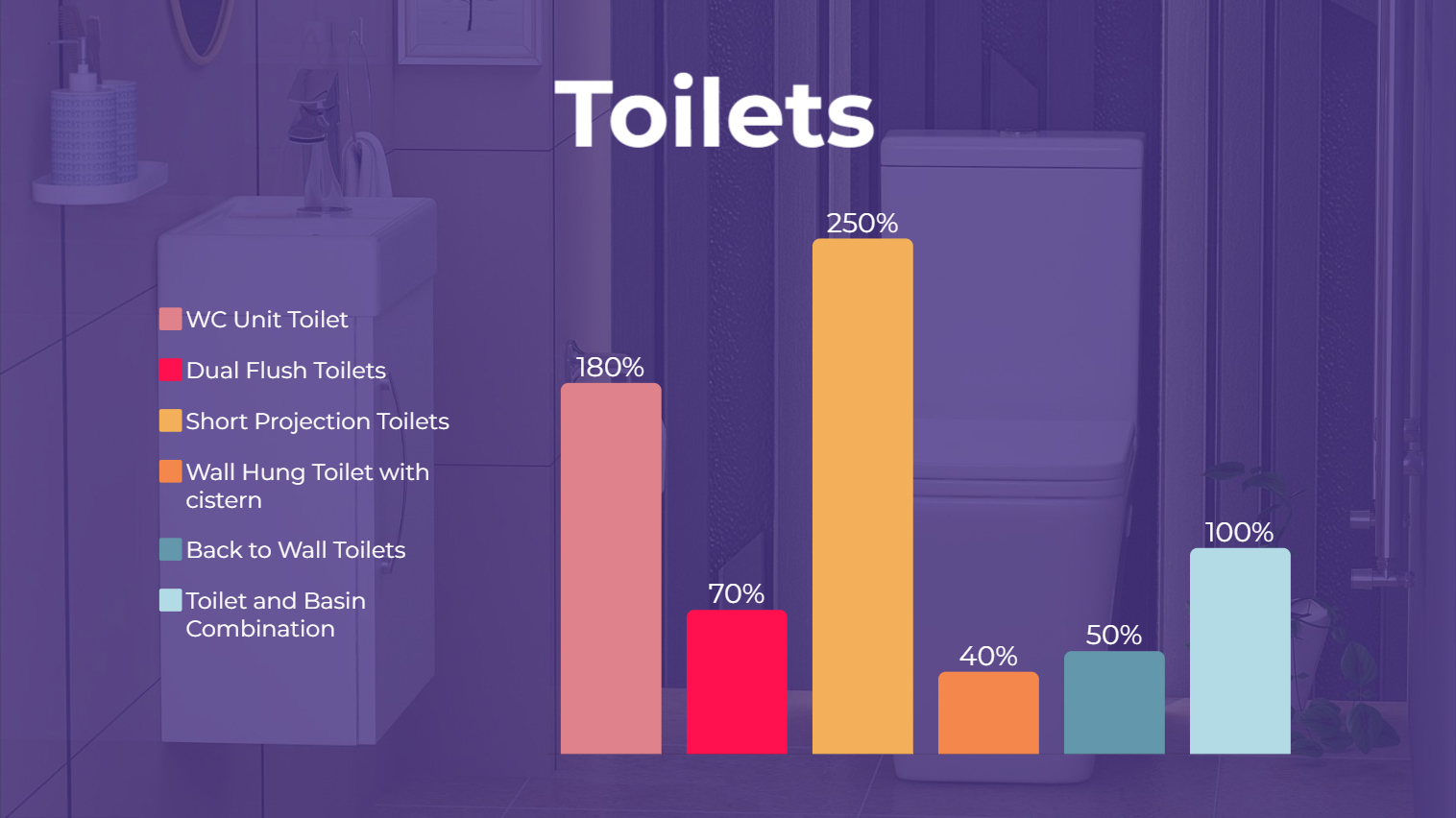 Walk in Shower Enclosures – Up by +250%
Walk in shower enclosures, and a wet room gives your bathroom a stunning minimalist look. That's what made them the biggest bathroom trend recently. People are particularly looking for this open space enclosure for small bathrooms. That means creating an open feel for the bathroom by removing a bathtub is becoming a preferred choice where space is limited.
All in One Shower Cubicles – Up by +90%
Shower enclosures have been a big bathroom trend over the past few years that seems to continue this year too. However, people are particularly interested in all in one shower cubicles, which is quick, easy, and simple to install. That shows people want to avoid the hassle out of choosing shower cubicle accessories like shower trays and shower doors separately.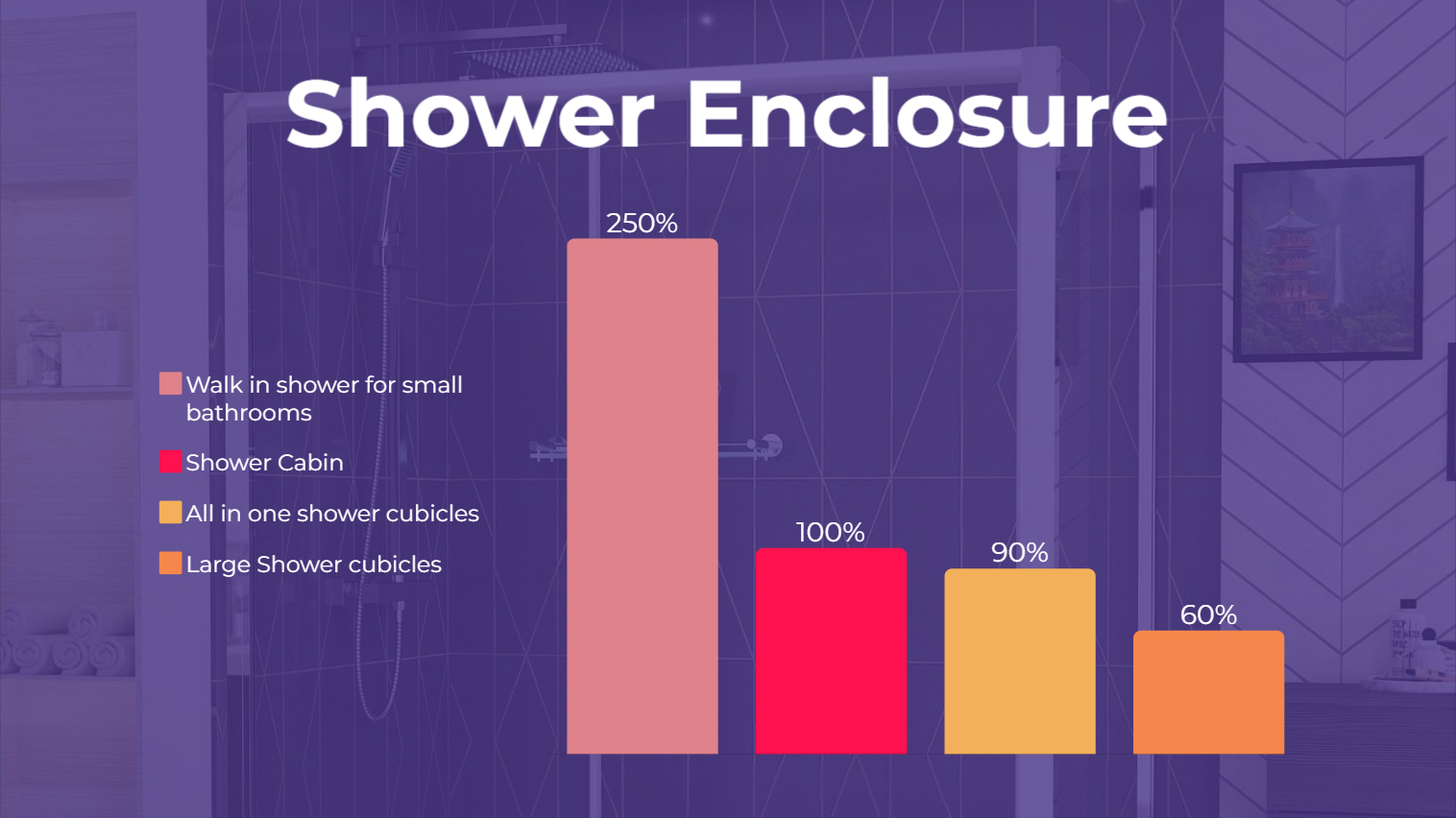 Black Bathroom Fittings and Accessories- Up by +50%
Black colour seems to be a big trend in the bathroom as people's searches for black bathroom fittings and accessories grew exponentially. Though it is a dark shade, that is easy to match with other colours. People are particularly interested in black shower enclosures, which are up by +40%, Black toilets by +50%, and Black Taps +40, while black bathroom mirrors are on top of search trends with a +150% growth in search. It seems like black is becoming a popular choice among homeowners in the UK.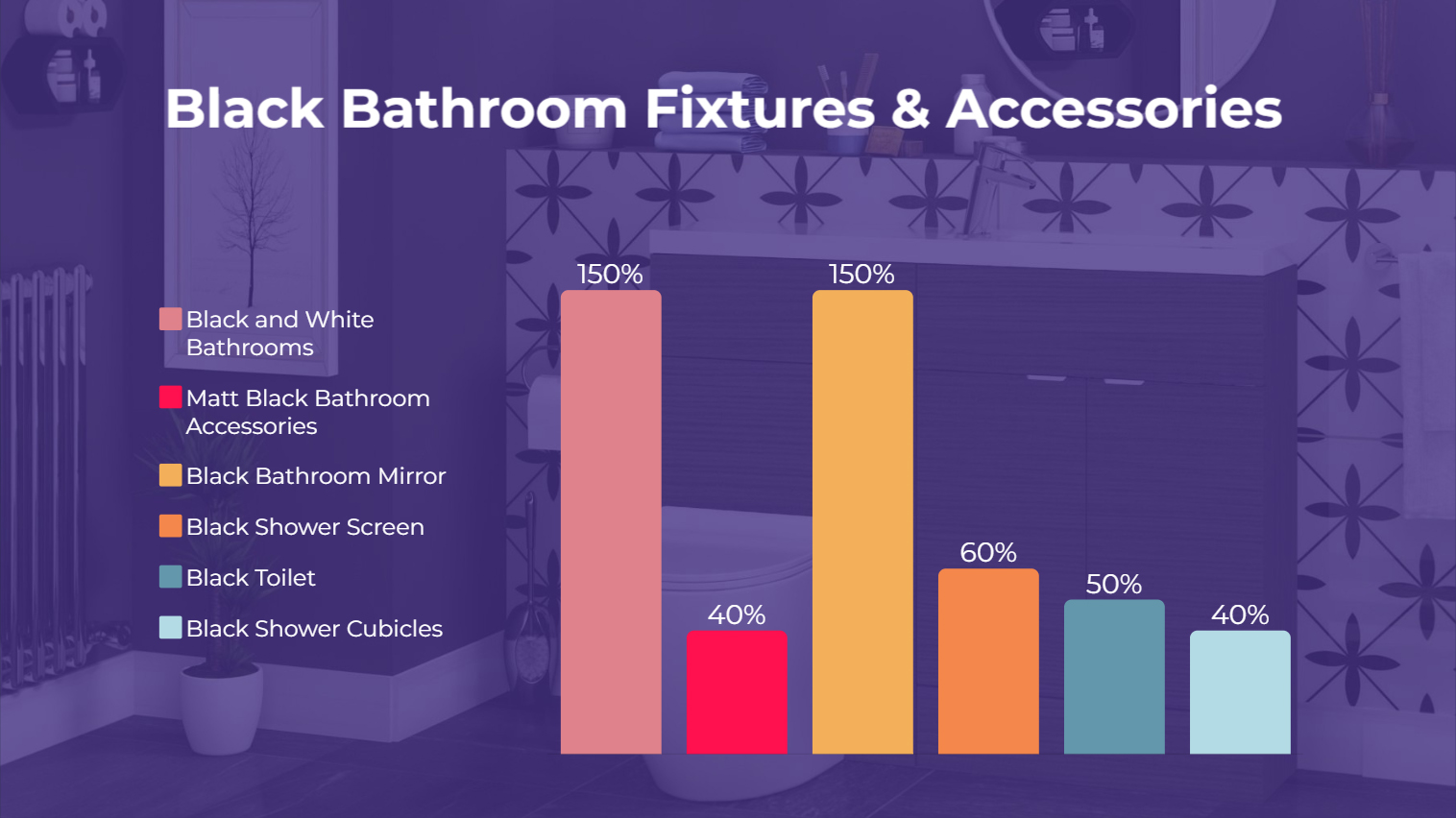 Shower Bathtub +100%
The searches for shower bathtubs are up by 100% shows that people want to enjoy both shower and a bath rather then ditching a bath for shower. There is a noticeable high demand for l shaped bath. At the same time there is increase of 150% for freestanding bath that shows that the fraction of people is also looking for a solo bath solution that is usually suitable for medium or large bathroom.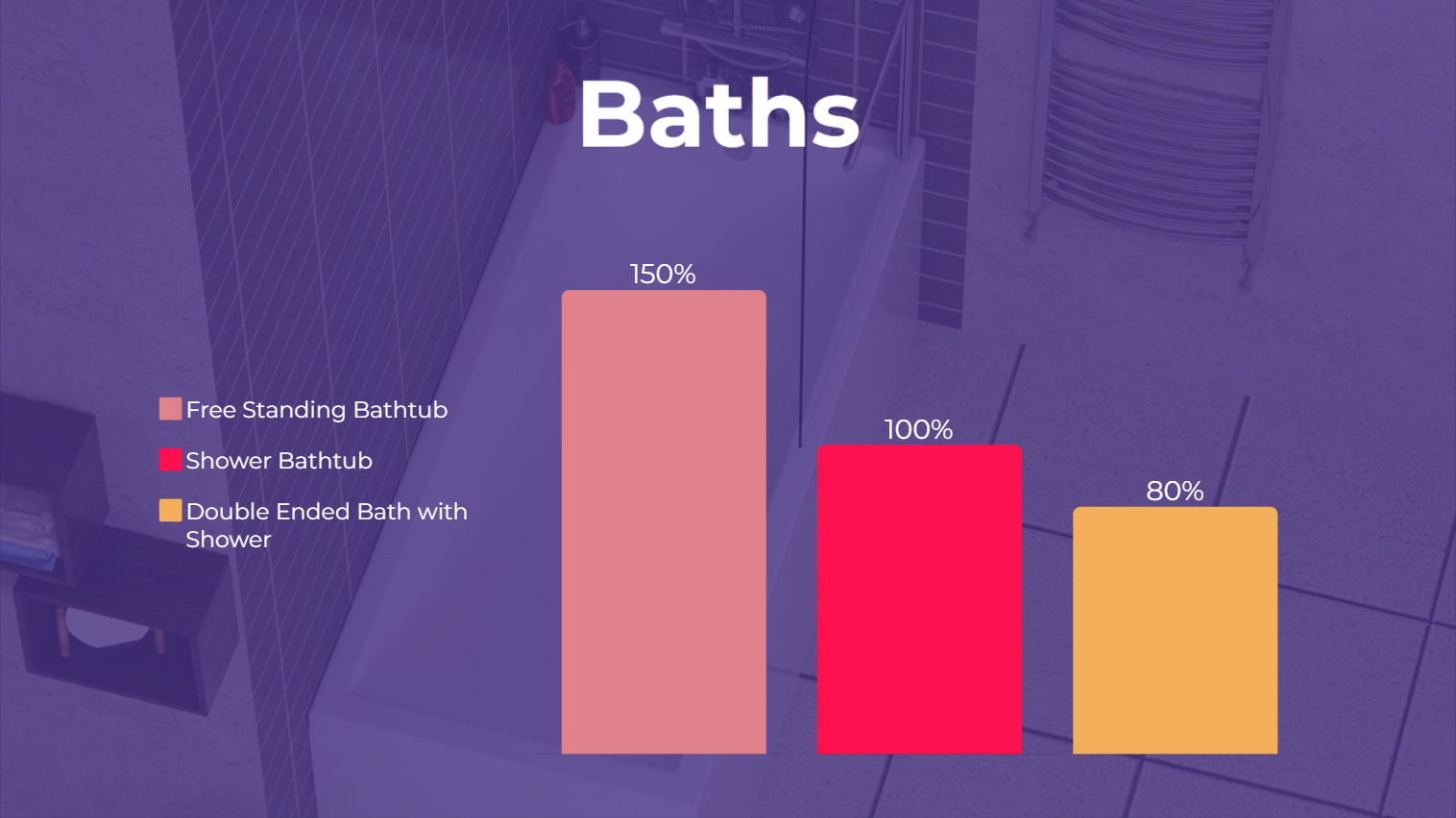 Our trends report provides an insight into what people are searching. It will give you an idea to get your bathroom renovations going. However, you should incorporate your personality in the bathroom design, so you continue to love it for a long time.