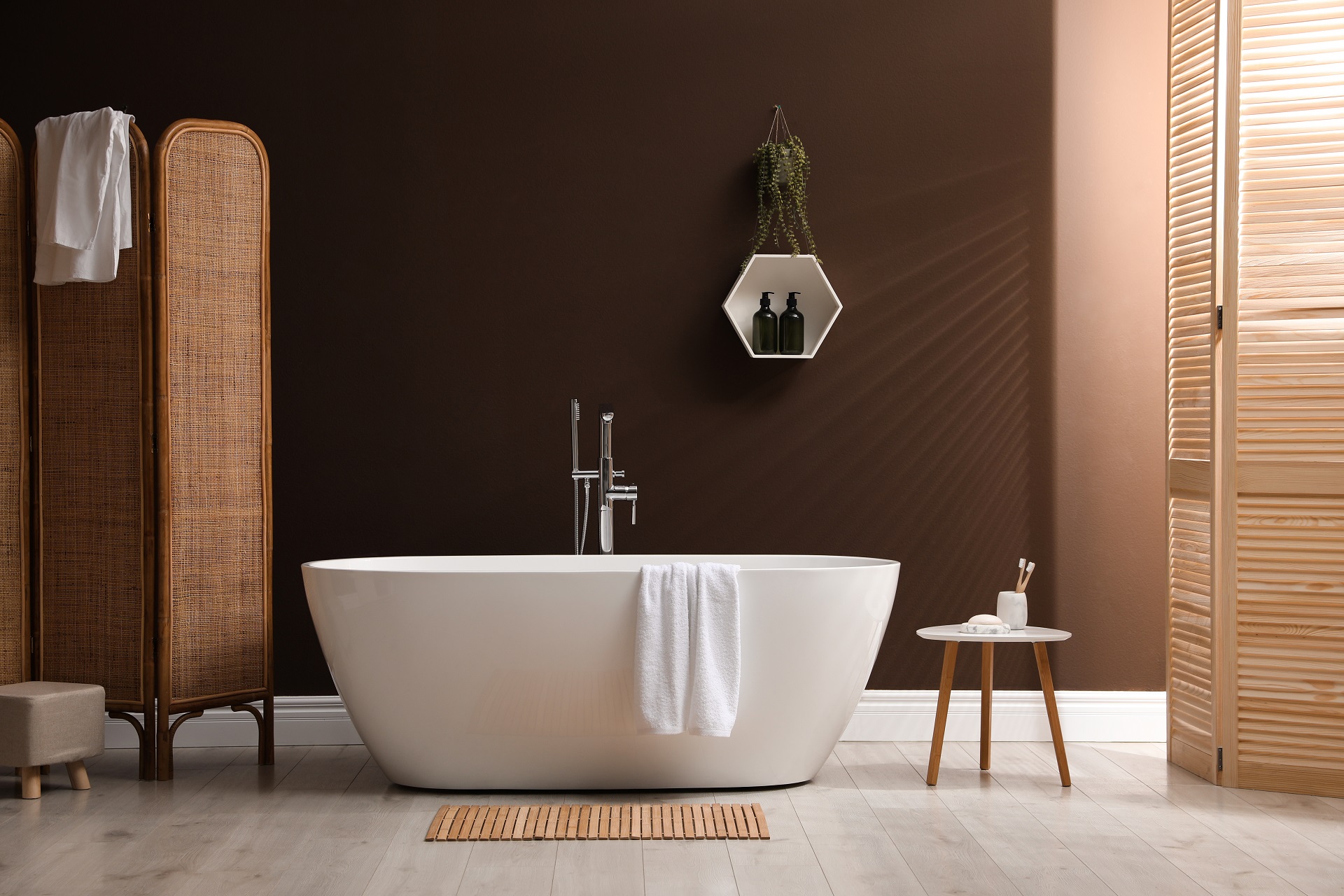 Be it the late weekend mornings or hectic evenings on the weekdays, nothing beats the comfort and relaxation one feels while dipped into a tub of warm cozy water. But not everyone has the luxury of having the same experience with their bathtubs. If you are starting a complete bathroom renovation project, make sure you replace that uncomfortable and discolored bathtub with a newer one.
From enameled steel, and cast iron, to fiberglass and acrylic ones, bathtubs come in a variety of types, materials, and shapes. Since they are not an everyday fixture you can so easily replace, make sure you consider every aspect of a bathtub before buying it.
When it comes to the popularity and widescale adoption, nothing comes close to acrylic bathtubs This hot option in the market is made from vacuum reinforced acrylic sheets with fiberglass, but are they a good option for your bathroom. Let's figure out why acrylic is used for bathtubs? And is it really worth buying?
Features that Make Acrylic a Must-Have Option for Bathtubs
Here are the features that make acrylic a good material for a bathtub.
Sturdiness and Durability
Acrylic bathtubs are popular for their strength and durability, especially the ones that are reinforced with fiberglass. They are known to last for years before it gets discolored, and form scratches, but timely maintenance and upkeep can extend their life even more.
Acrylic tubs have high resistance against cracks and leaks since it is a non-porous material that doesn't absorb water. Unlike a fiberglass tub, they won't crack or warp when contacted with water for longer durations. The only thing that comes close to acrylic tubs in terms of strength are cast iron tubs, but they cost at least 3 – 4 times more than an acrylic tub.
Lightweight
On the contrary to how it may seem, acrylic bathtubs are comparatively lightweight. Putting in comparison with cast iron tubs that weigh around 300 pounds, the acrylic tubs only weigh around 75 pounds. This makes them a better option considering the ease of transportation and installation. Not to mention, there is no restriction on where you should install your acrylic tubs, unlike cast iron tubs.
Repairability
Acrylic tubs, with their polished and gleaming surface, are bound to form scratches and even cracks after years of use without proper maintenance. But instead of asking for a replacement, bathtubs can be easily repaired. Although hiring a professional for the job would be a wise for time saving and ease, if you are on a budget, repairing it yourself as DIY isn't that big of a deal.
For starters, you need to clean the bathtub and make it clear from any stains, using a soft sponge and cleaning liquid. Keep the abrasive sponges or cleaning clothes away from the tub as they may develop scratches. Moreover, choose the right chemicals that are less harsh posing no risk to the surface. Remove the scratches through fine-grit sandpaper and apply polish to make it look new again.
Heat Retention
You should look for a bathtub material that can retain heat, so you can enjoy a long comfortable soak for a long duration. If you have a special spot for warm and relaxing baths on weekends, acrylic tubs are the right one for the job. Since they have a non-porous surface, they tend to retain the temperature of the water for longer durations, unlike their counterparts like fiberglass.
Variety of Sizes and Shapes
Being a malleable material, acrylic can be formed or turned into any shape, style, or color helping you choose the one that goes along with your bathroom's interior. If you have plenty of space in your bathroom to work with and you wish to bring some elegance into the room, buying a an acrylic freestanding bathtub will get along well.
But if your bathroom has a compromised free space, you'd have to stick with an acrylic corner tub. Similarly, if you have a left-out corner surrounded by walls on three sides, you might perhaps install an alcove bathtub.
Affordability
Acrylic bathtubs are among the most affordable bathtubs available on the market. In fact, they exhibit a diverse range of prices stemming from the ones standing at £300 - £500 to ones that are exorbitantly priced at £600 - $£2000. You can find cheaper ones than the £400 mark, but they are mostly made of fiberglass which is porous and brittle. But despite their strength and durability, the price of acrylic bathtubs is quite affordable.
FAQs
Is Acrylic Good for a Bathtub?
Acrylic is a good material for the bathtub due to many reasons. It is affordable, resistant to breakage, durable, repairable, can retain heat for a long time, and lightweight. All of these reasons make acrylic a good material for all types of baths. It does get scratches from wear and tear over time, but you can easily remove them with little effort. Many acrylic baths are reinforced with fiberglass to enhance their durability. That means you can use them for many years to come without requiring a replacement.
Do Acrylic Tubs Turn Yellow Over Time?
Acrylic is a type of transparent plastic material with few great qualities, making it a good choice for a bathtub. Unlike standard plastic, it is sturdy, stiff, and has optical clarity. But this material may turn tallow over time. And the problem may aggravate if you don't maintain it well or try to use harsh chemicals on it. However, it is that difficult to prevent the yellowing of the acrylic bath. You only need to follow a weekly cleaning regime to prevent any stains and yellowing. In addition to that, you should apply waxing after a month or two to increase its whitening, so the yellowing process does not take over.
Which Is Better, Acrylic or Porcelain Bathtub?
Both acrylic and porcelain have their pro and cons to be used as bathtub materials. Acrylic is relatively more popular as it is economical, lightweight, easier to install, and resistant to mold and mildew. However, it is less durable in comparison to porcelain and harder clean and maintain. On the other hand, porcelain baths are highly durable, look more luxurious, don't get scratches and stains easily, and are a lot easier to clean and maintain. But these are heavy, difficult to install and cost you significantly more than acrylic. Your choice of bathtub material depends on your needs and preferences.
How Do You Clean an Acrylic Bathtub?
You will need nonabrasive cleaning products to clean an acrylic bathtub. Here is how to clean an acrylic bathtub.
Step 1. Scatter a mild cleaning liquid or baking soda throughout the bathtub surface and let it sit for a few minutes. In case you are cleaning after too long, and tough stains are visible, then first fill it up with warm water and mix vinegar in it. You may even spray this mixture on the stains, ensuring that stains are completely dipped in them. It will take around 15 minutes or so to loosen up any soap scums or mildew.
Step 2. Drain the water mixture if you have chosen to fill it up with it, and use the damp cloth or sponge scourer to scrub the baking soda on the acrylic bathtub surface and bathtub fillers.
Step 3. Use the scrubbing brush to capture the dirt in the nooks and crannies.
Step 4. After you are done scrubbing, you can rinse the bathtub and wipe it clean.
How Do You Choose a Bathtub?
A bathtub last for a decade or two. Therefore, it is worthwhile carefully consider your options before making a final bathtub choice.
Decide how much you can afford to spend
Decide and measure the available space in your bathroom.
Choose between various types of Bathtubs.
Choose the bathtub material.
Choose bath fillers and shower
Check installation costs
What Is the Lifespan of a Bathtub?
How long your bathtub will last depend on how it is maintained, its material, water quality, and usage. Generally, you can expect a bathtub to last anywhere between 10 to 30 years. The acrylic and fiberglass baths may last around over a decade. At the same time, porcelain enameled baths have a much longer bath span but will require refurbishing and refinishing every 5 to 15 years. Depending on the bath material, you should follow a regular cleaning and maintenance regime. In addition to that, check you have hard water, then try to control its damages.