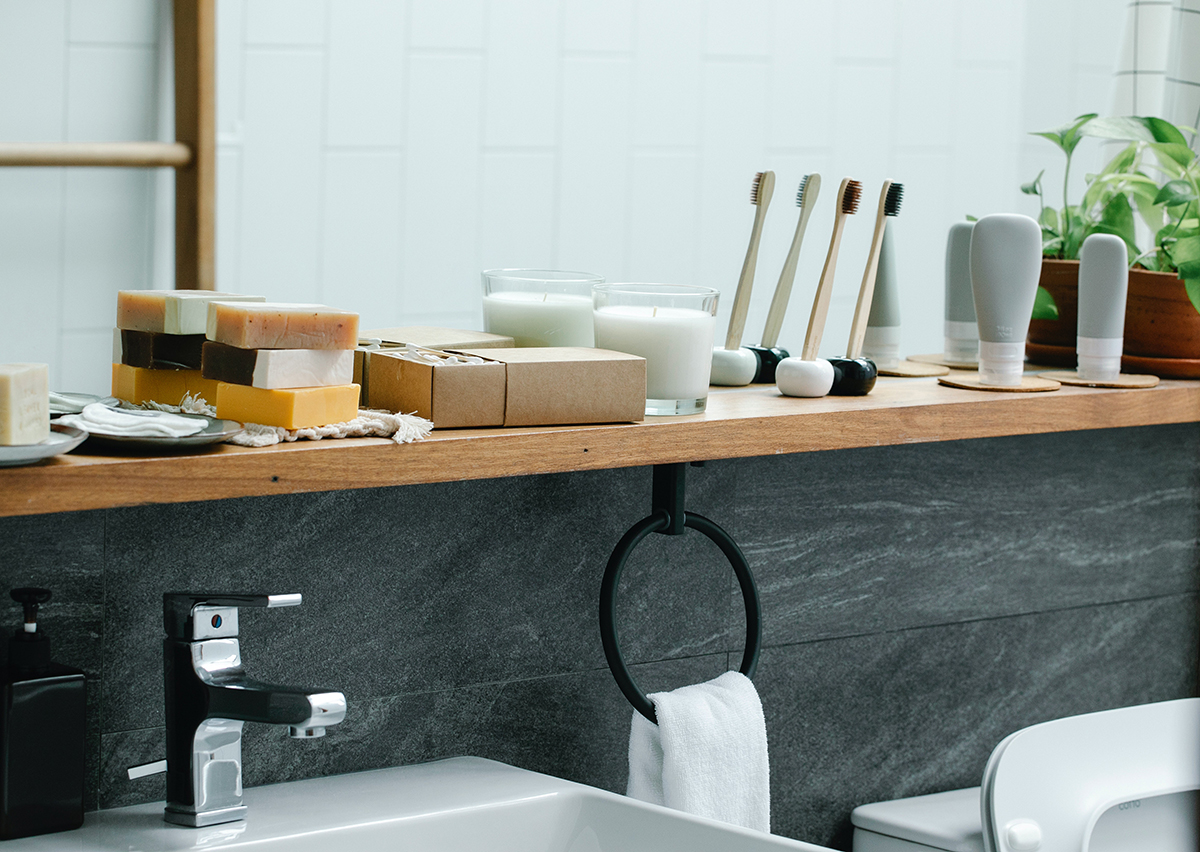 Shelves are a perfect way to add that direly needed storage space in a bathroom. While the rarely needed toiletries can be jumbled up in the drawers and cabinets, you can place the widely used items on the shelves. But wouldn't that damage the décor of the room? To avoid it, you should keep a few things in mind. First, consider the overall style of the room. If you have a modern bathroom, you'll want to choose items that fit that aesthetic. Second, think about what do you want the shelves to achieve. Are you looking for a place to store extra towels and toiletries? Or do you want to use the shelves as an opportunity to add a personal touch to the room? Once you've considered these factors, you can start brainstorming potential items.
If you are looking for some ideas on how to decorate your bathroom shelves, you have come to the right place. In this post, we will take a look at five clever ways to decorate your bathroom shelves. So, without further delay, let's get started.
1. Bring in some Leafy Greens
Nothing works better with contemporary and traditional bathroom setups than plants. Believe it or not, bathrooms feel a little cold and distant from the rest of the home. Bringing in some natural life would add the deeply desired cosiness to the space. Besides, most house plants would thrive in a bathroom's moist and humid habitat. When it comes to the appropriate placement, the wall-mounted shelves and the countertop are suitable options. If you have plenty of space to work with, why not add several plant pots on the counter and shelves to create a natural outlook?
2. Be Vibrant with Colors
Unless you are pursuing a minimalistic theme for your bathroom, colours can be the perfect way of imparting your personality to the room. While decorating the shelves of your room, be experimental with the colours scheme.
Start by organising the commodities based on the colour schemes. Place items from the same colour family on one shelf while using the other one. So, the next time you go grocery shopping, prefer buying items with different coloured labels for vibrance.
For instance, you can have the same coloured toothbrush as the cup holder, the past, or the one that matches your shampoo bottle. It will create an overall cohesive look that will brighten up your day as soon as you enter.
3. Never Overstuff
We all know that bathroom storage is never enough. Even with the wide vanity unit, mirrored cabinets, and wall-mounted shelves, removing the clutter seems like an ongoing challenge. Although shelves offer tons of space to place your bathroom essentials, refrain from overstuffing.
If you want your shelves to be the room's focal point, take things easy. Place only the basic essentials that you require daily. Also, leave some space for décor items such as plant pots. As for the rest of the items, you can simply stuff them well hidden inside the cabinets.
4. Use Containers when Needed
Use containers to end the clutter if the available storage space won't cut it. You can either use small decorated baskets or adjustable storage compartments to hold the small items. Besides being a practical way of storing your items, baskets are more economical and bring style to the room.
Before the storage becomes a hassle, you can opt for transparent containers and jars that allow you to see the stored items inside. This way, you won't have to shuffle the items while looking for the one you need.
5. Place Items in Groups
Once you start going after the looks and appearance too much, you lose out on the ease of access. Remember, you need your bathroom to be just as practical and accessible as it appears. You don't want to tire yourself out while looking for the item you need.
The best way to ensure seamless access to every item on the shelf is to organise the commodities in groups. For instance, you can group your shampoos and conditioners on one side beside the soaps. While other grooming items and shaving kits can be aligned by the flower pot on the upper shelf.
Not only would it help arrange them easily, but it would also make your bathroom appear uniform. Besides, the grouping would make things more streamlined for you when it comes to a restocking.
Whatever you decide to display on your bathroom shelves, the most important thing is that you will love it! After all, this is your sanctuary, so make sure it reflects your unique taste and style.
FAQs about Decorating Your bathroom Shelf
What should Display on the Bathroom Shelves?
There are a few popular choices that you can display on the bathroom shelves to give the overall décor a personal touch.
Candles: Candles can add a touch of ambiance to any room, and they come in a wide range of styles to suit any décor. Plus, they're a great way to make your bathroom smell delightful!
Plants: A few small plants can help to purify the air and add a touch of nature to your bathroom. Choose varieties that can thrive in low-light conditions, such as snake plants or spider plants.
Artwork: Whether it's a painting, photograph, or sculpture, art can give your bathroom personality and make it feel like your own personal oasis. Just be sure to choose pieces that are resistant to humidity.
How can I Make my Small Bathroom Look Luxurious?
When it comes to bathroom design, there are many ways to create a luxurious look, even in a small space. One way to add a touch of luxury is to use high-quality materials. Tile, stone, and glass can all add an elevated look to a bathroom. Another way to create a luxurious feeling is through the use of amenities. Heated floors, rainfall showerheads, and soaking tubs can all help to create a spa-like experience. Finally, lighting is also key in creating a luxurious bathroom. Soft, indirect lighting can help to create a tranquil atmosphere. By using these design tips, even the smallest bathroom can feel like a luxurious retreat.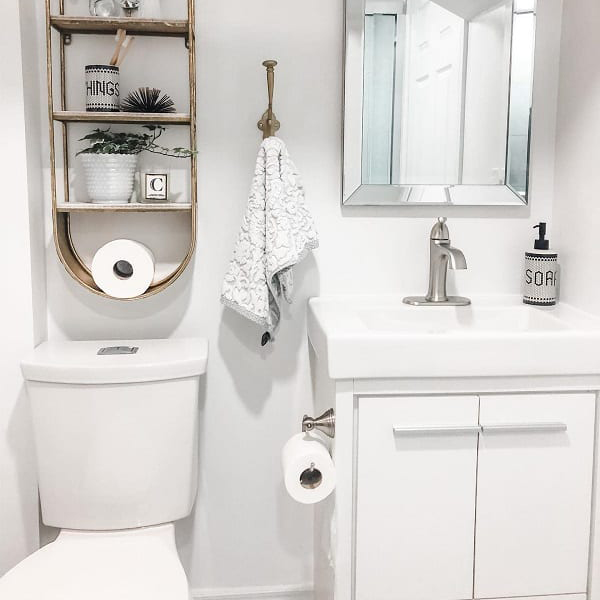 What do you Put in a Bathroom Vanity Drawer?
It is important that you put only necessary and everyday used items in the bathroom vanity drawer. For example, cosmetics, toothbrushes, body lotions, shaving items, and hair care items. You should avoid keeping the medicines inside the vanity drawer as the bathroom is full of humidity, and you may have problems
Where should Towels be Placed after Shower?
There are many conflicting views on where you should place the towel after. Some people believe that towels should be hung up to dry, while others believe that they should be left on the floor. However, there are a few common places where you can put the towel after a shower. These may include a towel radiator towel rack on the hook with the door. The racks or radiators are usually recommended as they can quickly dry up the towel, and you have a cosy towel available at the time of a shower or a bath.
Where should Bathroom Accessories be Placed?
You should place bathroom accessories in accordance with their usage and need. For example, a toothbrush and toothpaste should be placed near a sink, a towel next to the bathtub, etc. In addition to that, you will need to keep the size of the items in mind as well. Some items, such as soap dishes and toothbrush holders, can be placed on countertops or shelves, while larger items, like trash cans and shower caddies, may need to be stored in cabinets or under the sink. Finally, think about the style of the room. Placing accessories in matching sets can help to create a cohesive look while mixing and matching different styles can add visual interest.