With how quickly bathroom interior design trends are transforming, shower enclosures have come a long way from being a luxury to a necessity. Every homeowner dream of installing a the right size shower enclosure when renovating or building their bathroom. And why not? The shower enclosure comes in a massive range from a standard size shower enclosure suitable for standard family bathrooms to shower cubicles for small and large spaces. However, it may sometimes be confusing to know what size shower enclosure you need?
Moreover, if you want to create a clean, contemporary outlook or want to impose a traditional touch on your bathroom layout, there are shower enclosures that would fit right in. But the extensive range in shower enclosure size and designs can be too overwhelming. The never-ending choices feel no less than a hassle to deal with when you are buying a shower enclosure.
Unlike bathroom essentials, shower enclosures are not something you shop for every day or buy newer, better models in case the old one doesn't fit in perfectly. Although most people prefer going for a standard-sized shower enclosure, it is better if you be cautious while choosing the size of the shower cubicles. To make sure you stay satisfied with your size and design in the future, too, here are some things that will help you to know what size shower enclosure you need and What you should consider beforehand.
Standard Shower Sizes
The choice of shower cubicle size depends on the availability of space, your needs, preference, etc. However, a standard shower size can be 36″ x 36″ or 900mm x 900mm, which is suitable for most shower spaces. It makes up of 90cm x90cm standard shower size cm. You may choose this size for your standard family bathroom in the UK which usually measures 2000mm x 2000mm. Other standard shower sizes you have available are
32″ x 32″ (800mm x 800mm)
34″ x 34″
36″ x 36″ (900mm x 900mm)
42′ x 36″
48″ x 36″ (1200mm X 900mm
48″ x 48″ (1200mm x 1200mm)
60″ x 36″ (1500mm x 900mm)
Standard Shower Enclosures Size for Small Bathrooms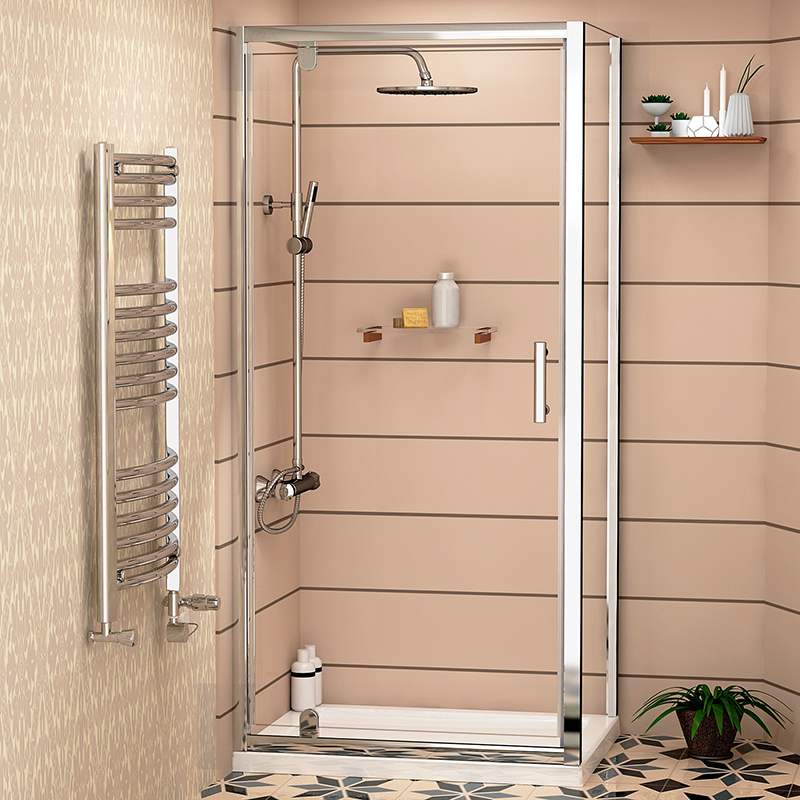 Considering the small and congested space, you are left with limited options to try out. However, in most places, the smallest available size for shower enclosure is 800mm by 800mm. You may choose other sizes depending on your needs.
Bi-fold and quadrant shower cubicles are the most popular options due to their better space-saving designs. Besides, they are also a better alternative for square and rectangular cubicles that require ample space to fit in.
The curved shape outline of the enclosure offers maximum room inside without compromising the bathroom space. If you don't want the enclosure protruding in your bathroom, making it even congested, you can use the space between two adjacent walls. This will not only provide spacious shower space but will also add a cleaner and better finish.
Standard Shower Enclosure Size for Large Bathrooms
People with larger bathrooms have it easier. There are no limitations to what you can install in the bathroom if you have profound space. However, with a larger space, you have to install bigger shower cubicles that complement the size of the bathroom altogether. The typical shower enclosure size for large bathrooms starts from 48″ x 36″ in inches or 1200mm x 900mm. Other size options for large bathroom shower enclosures are 1400mm,1500mm,1600mm, 1700mm enclosures.
The typical shower enclosures for large bathrooms include a square and rectangular enclosure. If you choose a rectangular enclosure, then you may have to ask for customization of the size, as these are available in relatively smaller sizes. Walk-in shower enclosures and wet rooms are also standard options for people with larger bathrooms.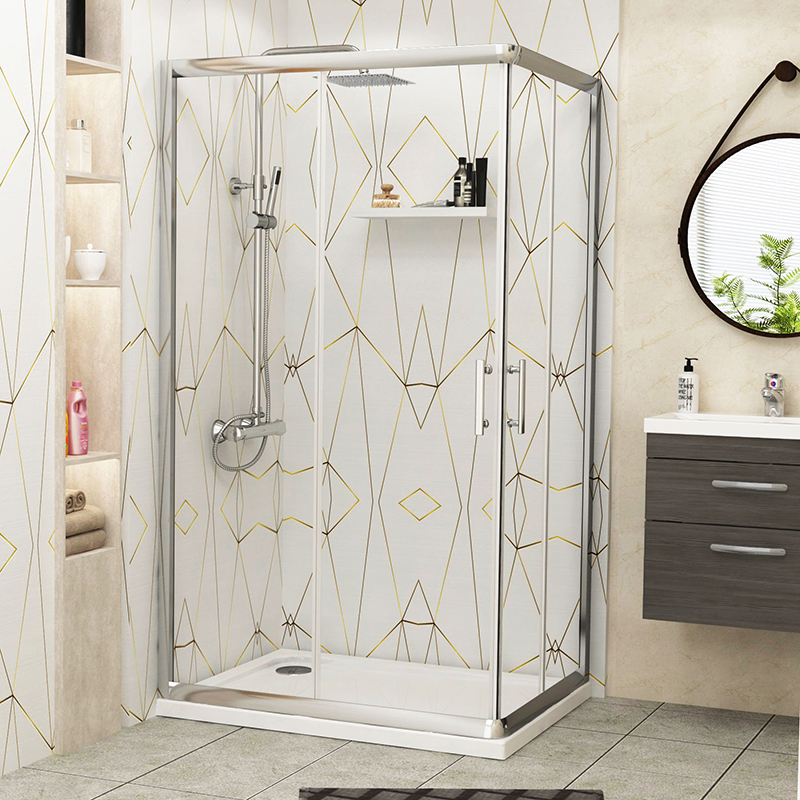 Standard Walk in Shower Size
Walk-in showers are increasingly becoming a popular choice in the UK. These offer more functional shower space than the standard shower enclosure. You can install them anywhere and enjoy a shower with ease of access and safety. You have more customization options available with the shower enclosure. However, the most common or standard sizes for a walk in shower are.
36″ x 36″ (900mm x 900mm)
42″ x 36″
48″ x 32″ (1200mm X 900mm
48″ x 48″ (1200mm x 1200mm)
60″ x 36″ (1500mm x 900mm)
How to Know Which Shower Enclosure Size Do I Need?
While determining the size of the shower cubicle for your bathroom, here are some essential things you should pay attention to:
Bathroom Size
The size of your bathroom determines the size of the shower enclosure; it's as simple. If you have a bigger and airy bathroom, select a shower enclosure that matches the size of the room. Likewise, smaller bathrooms prefer small and compact designs that complement the bathroom layout.
Available Space
Make sure you craft out the layout design of your bathroom before picking an enclosure size to go with. Carefully plan the areas where different fixtures would be installed. For instance, you can install your vanity unit adjacent to or perpendicular to your toilet, depending on the shape of your bathroom. As for the shower enclosure, choose the corner opposite the toilet to have a more specified space, especially if you have a compact bathroom layout.
Shower Enclosure Position
You can't just install the shower enclosure anywhere. Positioning your shower enclosure is one of the most critical elements in a bathroom layout design. If you have a spacious bathroom, determining the right place for an enclosure wouldn't be an issue. However, for smaller compact bathrooms, position the enclosure in a place that poses no hurdle to your normal use of the bathroom.
How to Measure Your Bathroom Space for Shower Enclosure?
Once you determine the right place for enclosure installation, measure out the premises to know what size of shower enclosure would fit. To take proper measurements, you need to know the designated place's height, width, and depth. If you are doing it for the first time, here are some tips you can follow:
The shower tray of the enclosure determines how protruding a cubicle would be in the bathroom. If you have selected a squared shower, measure the length of the tray edges from the wall. As for quadrant enclosures, set the curved boundary as the protruding point.
If your dream shower enclosure is designed to be installed between two walls, make sure to take the measurements at three different points because there is a high chance that the straight-looking walls are not so straight. Purchase a cubicle that can smoothly open and close within the available space.
In case of a corner placing shower enclosure, you must take measurements from both adjacent walls for the right fit.
FAQs
How Big Should a Shower Cubicle Be?
Shower enclosures are available in various sizes. However, the maximum size square shape shower cubicle in most cases is 1700mm x 900mm. The size may also depend on the shape or type of enclosure you choose.
What is the Comfortable Size of Shower?
The standard shower enclosure size starts from 30″ x 30″ (700mm x 700mm), but most people feel comfortable in the shower cubicle size of 48″ x 36″ (1200mm X 900mm).
What Size is a Small Shower Cubicle?
As per the international building code association, the smallest shower enclosure size requirement is 30″ x 30″ (700mm x 700mm). However, you will see the starting size of a cubicle available from 32″ x 32″ (800mm x 800mm)
How Long Shower a Shower Enclosure Last?
A good quality glass shower enclosure may last up to 30 years, depending on the type of care it gets. The type of use and care generally determine how long it will last.
How Do you Maintain Shower Enclosure?
The maintenance of the shower enclosure generally involves regular cleaning. You should try using natural or other types of disinfects and glass cleaners to clean it 2 to 3 times a week. In addition to that, it is also important to keep an eye on wear and tear or breakage.
How Do You Clean an Old Shower Enclosure?
Cleaning an old shower enclosure is not much different from a new shower cubicle. You can simply use a vinegar and water mixture, spray it on the glass and then wipe it off to clean the space. Alternatively, you can find a good glass cleaner for shower walls and disinfect another hard surface to clean it off.