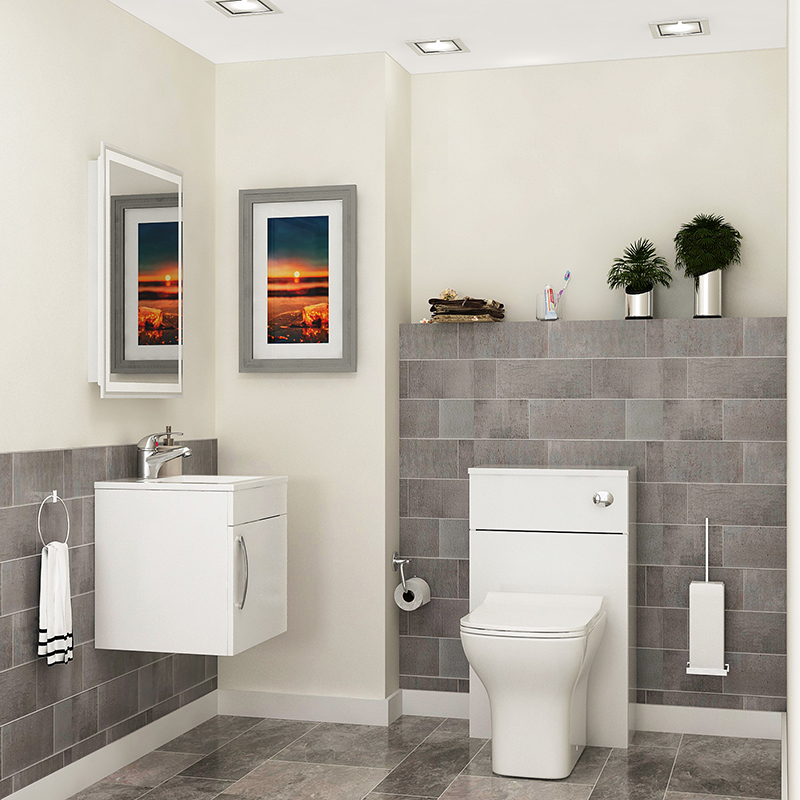 Are you struggling with small bathroom space? You are not alone. Many homes have the same problem. It can be due to physically small space, clutter, or the use of oversized bathroom fittings and fixtures. While making your bathroom clutter free may only need an installation of a vanity unit, dealing with less space usually requires a complete bathroom makeover. It will involve removing existing fittings and replacing them with more space efficient designs.
However, making everything work together in a small space can be challenging. The key remains in installing everything that fits and works together perfectly while taking minimum space. Small bathroom suites can be a great solution for all such situations. These are premade packages with a collection of bathroom fittings and fixtures that complement each other aesthetically. By installing them in your bathroom, you can enjoy a stylish, sophisticated space where you can relax and unwind.
Take a look at a few small bathroom suites that will transform your space into a sumptuous one.
3 Piece Small Bathroom Suites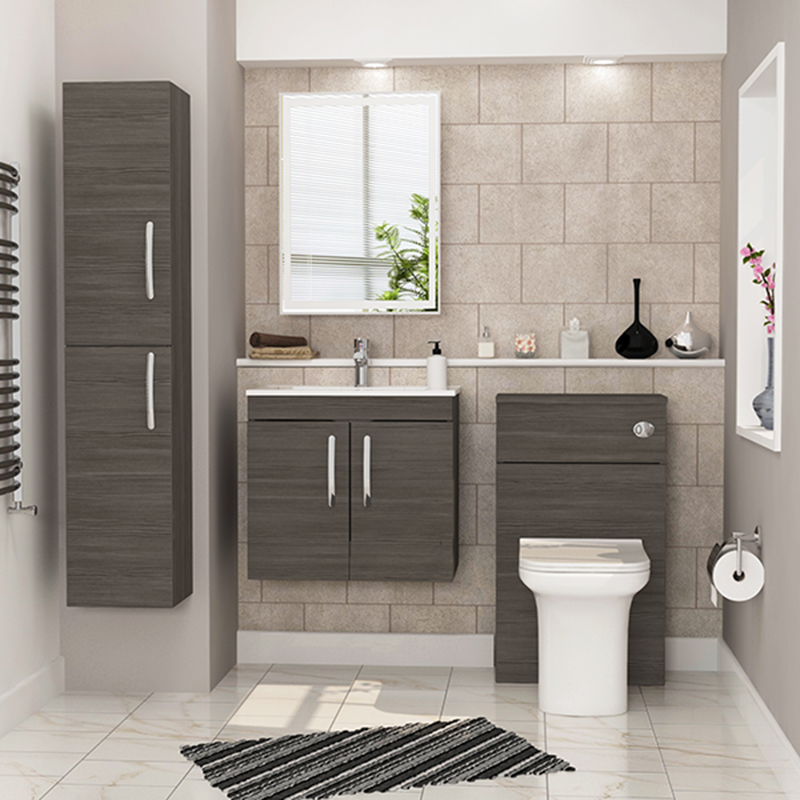 Generally, 3- and 2-piece bathroom suites are suitable for small bathrooms. A typical three-piece suit will include a toilet, vanity sink unit, shower, bath, or another type of storage. You will find them in various combinations to choose from so you can get what you are looking for.
Our cloakroom suite with a 2-door wall hung vanity unit, a tall boy cabinet, and a BTW pan with WC unit offers a complete solution for some looking for a full bathroom makeover. It is designed keeping in view the storage needs of the small family as it includes all the fittings and fixtures that can fit perfectly in the small bathroom. The Turin 600mm wall hung vanity in Grey Elm looks great and provides ample storage capacity for your bathroom essentials. The back to wall complete set toilet is the best in the market that will surely turn your bathroom into a modern space. You can find the same combination in various colours and size options.
2 Piece Small Bathroom Suites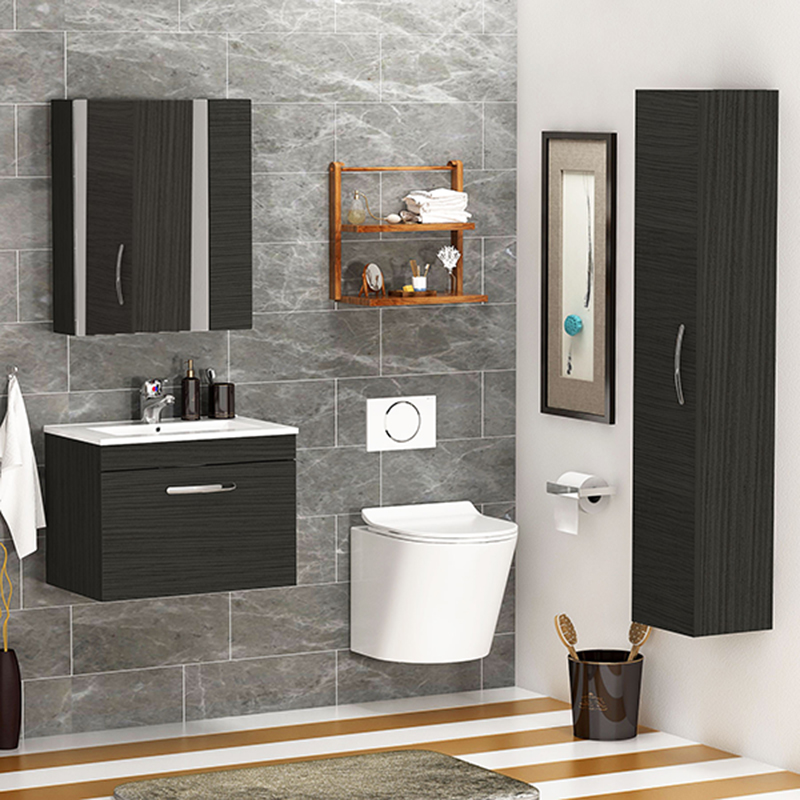 Most cloakrooms and small bathrooms only need two fittings and fixtures that include a toilet and sink. The 2-piece suites are a great option for someone looking for essential fittings for their small bathrooms. Or in case you want something that saves space of a large bathroom.
Our cloakroom suite with a wall hung vanity unit, and a wall hung toilet is a great solution for people looking for a perfect space saving option for their bathroom. The suite includes a floating style vanity with 1 door cabinet in Hale Black Colour. To complement it, the package also includes a wall hung style toilet. Both of these save space and create a luxurious-looking bathroom while having minimal impact on the bathroom. So, if you love neater looks and want something that looks luxurious, then this suite is for you.
Looking to create a classic looking bathroom with the fittings and fixtures loaded with modern features. Our small bathroom suite with a floor standing vanity unit and a Cube close coupled toilet is a perfect choice. It features timeless designs that will not go out of trend, and highly attractive white gloss finish ensures these complement all types of bathroom décor. Although, both of the fittings included in this package are freestanding but are perfect for the small space because of their design. The Turin freestanding vanity is a sleek and compact unit with a sink on top of it. Which is, combined with the close coupled toilet has narrowed the bottom to use minimal use of space on the floor.
Another top of the range most popular minimalist small bathroom suite comes with a beautiful Elena rimless toilet pan. The Back to Wall WC unit is also included in the package to complete it. The soft close seat is also included so you don't have to get it separately. The gloss white wall hung minimalist vanity unit with basin offers the perfect space-saving solution for most of the bathrooms. It has a white gloss bathroom suit that will make it a lot easier for you to create coordinated looks.
Combination Pack Bathroom Suites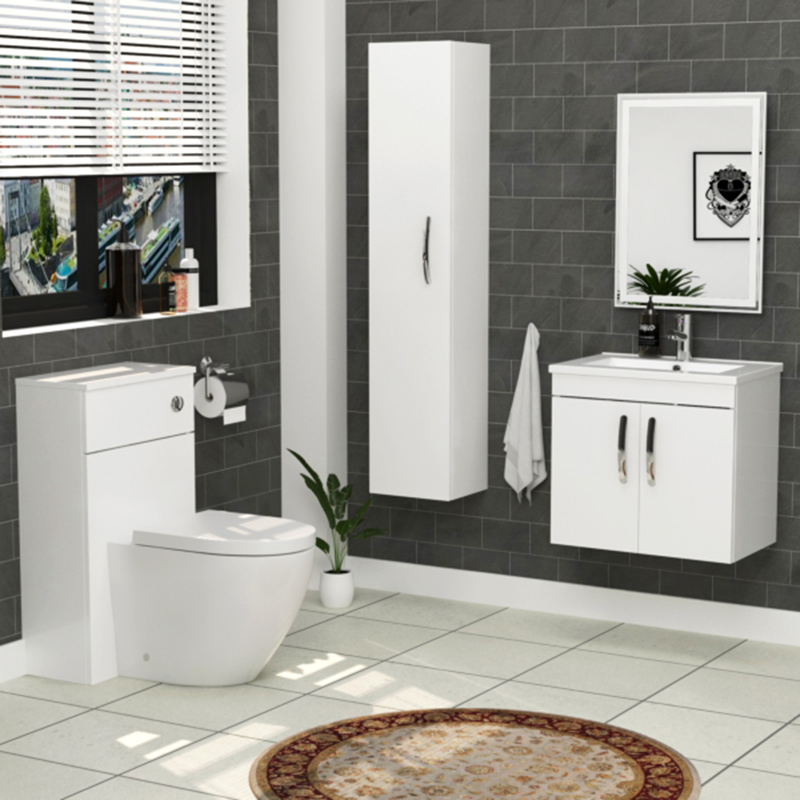 Another way to transform your bathroom into a modern space while saving bathroom space is by installing combination pack bathroom suites. These are technically vanity unit with built-in toilets and sink. With everything fitting into a single unit, it offers incredible space saving.
Elena is a newly launched modern bathroom furniture pack range that is stylish and highly practical for your small bathroom needs. The highly attractive hale black finish with polymarble basin fitted on top make a perfect style statement. It is combined with a high-quality modern toilet pan and back to wall WC unit. It's all in one unit is a great solution when space is limited and you don't want to compromise on style. You can fit it along the wall taking approximately 1100mm space, which will provide enough space for other bathroom fittings. The 2-door cabinet under the sink ensures ample storage capacity for bathroom essentials.
FAQs
What is the Smallest Bathroom you can build?
The smallest bathroom size in the UK is around 15-20 square feet which will require a 2 piece bathroom suite. It is because you can only fit a toilet and a vanity sink unit in such a small space. However, if you want to install a shower, then you will roughly need double space, like 30-40 square feet bathroom. In case you want to have both shower and a bath, then 40 square feet is the minimum bathroom size recommended.
What Size a Toilet Be?
Toilets come in different styles and sizes. However, a standard toilet size in the UK is typically 500mm wide, 750mm deep, and 700mm to 800mm high.
How Far Should a Toilet Be from A Shower?
Although, there is no set limit for the gap between a shower and a toilet. You should aim for a minimum 650mm to 700mm distance between them. The recommended gap for the bath will also remain the same for your ease of use.
Does a Bathroom Need a Window?
The bathroom definitely needs at least one window for ventilation. It will help remove moisture from the air easily. If you don't have a window, then a ventilation extractor fan is recommended to avoid the risk of mildew and mold growth.
How Do You Vent a Bathroom Without a Window?
The UK building code requires you to have at least one window in your bathroom. However, if you don't have one , then the most efficient way to vent a bathroom without a window is to install a ventilation fan. There are many other ways to deal with such a bathroom, like using a dehumidifier, installing a ceiling fan, trying to keep the floor and wall dry, etc.