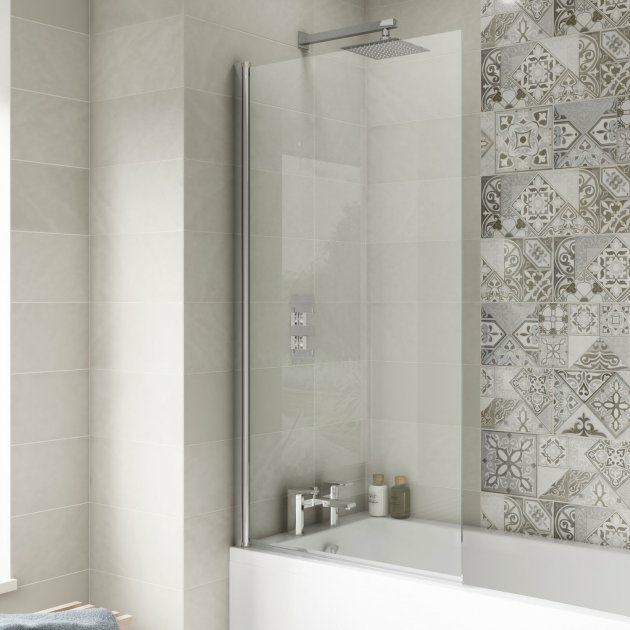 The shower screen is a smart and practical choice to keep shower time splashes at bay. You can fit them to the wall or over the bath as an alternative to shower curtains.
A bath shower screen is simply a glass panel that creates a barrier between your shower bath and the rest of the bathroom. It is perhaps, a modern version of the shower curtain that is easier to clean and makes your bathroom look premium and luxurious. While there are various options available in the market, choosing the best bath shower screen for your bathroom depends on various factors.
Best Bath Shower Screen Types
The bath shower screens are available in a variety of shapes, so you can choose depending on the type of bathtub you have.
Straight Bath Shower Screens. These are single glass panel screens that fit along the edge of the straight shower bathtubs.
L Shaped Bath Shower Screen. It is also a straight glass panel with a little bending area at the one end to make it a perfect fit for L shaped bathtub.
Curved Bath Shower Screen. It has a minor curved shape that makes it suitable for the p shaped bathtubs. You will need to fit it around the curve side that is used for the shower.
Folding Shower Screen. It is like a folding shower door that you can fold when not in use. The hinges in the middle of the door help them to fold inwards or outwards.
Sliding Shower Screen. It is a relatively longer shower screen that has a panel extendable to the length of the shower bathtub. You can then slide it back to half as necessary.

What are The Best Bath Shower Screens in the UK?
When it comes to choosing the best shower screen, you should look for its build quality and glass thickness in addition to other features. Here is the list of top 5 best bath shower screens in the UK.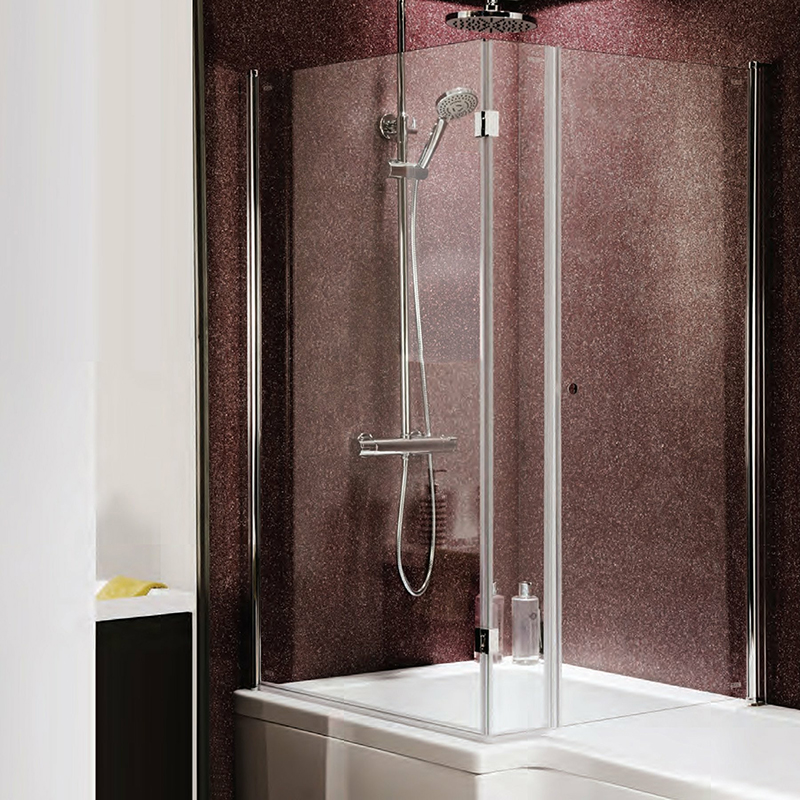 Cessellie hinged bath shower screen is our top pick. It has a fully reversible design that can transform your l shaped bath into an enclosure. It comes with a joining magnet for smooth movement, and cutout handles for easier access. Not only this pivot shower screen looks great on your bath but getting into and out of the shower bath is a lot easier and hassle free. It is a high build quality design that is durable for a long-term use. Its 6mm toughened safety glass with crystal clear finish ensures strength and reliability. The manufacturer offers 10 years warranty with this screen for your peace of mind.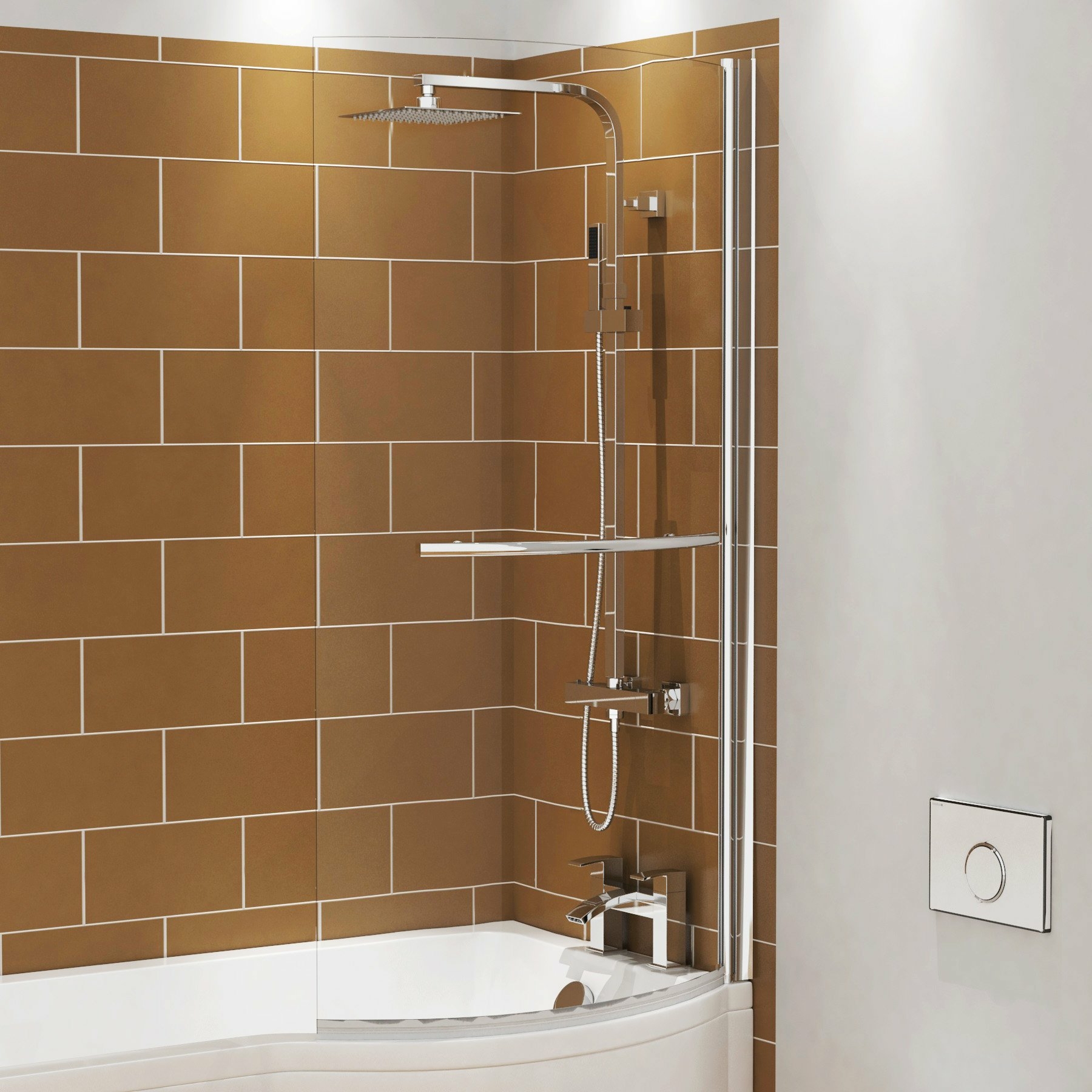 If you have a p shaped shower bath, then a Premier curved bath shower screen can be a perfect choice for it. It comes with a fixed safety towel rail for added comfort. Made with 6mm toughened safety glass for added safety, it is highly durable with polished chrome finished frame. It is suitable for installation with both lefts- and right-hand p shaped shower baths. Moreover, it comes with 5 years manufacturer's warranty for added satisfaction and peace of mind.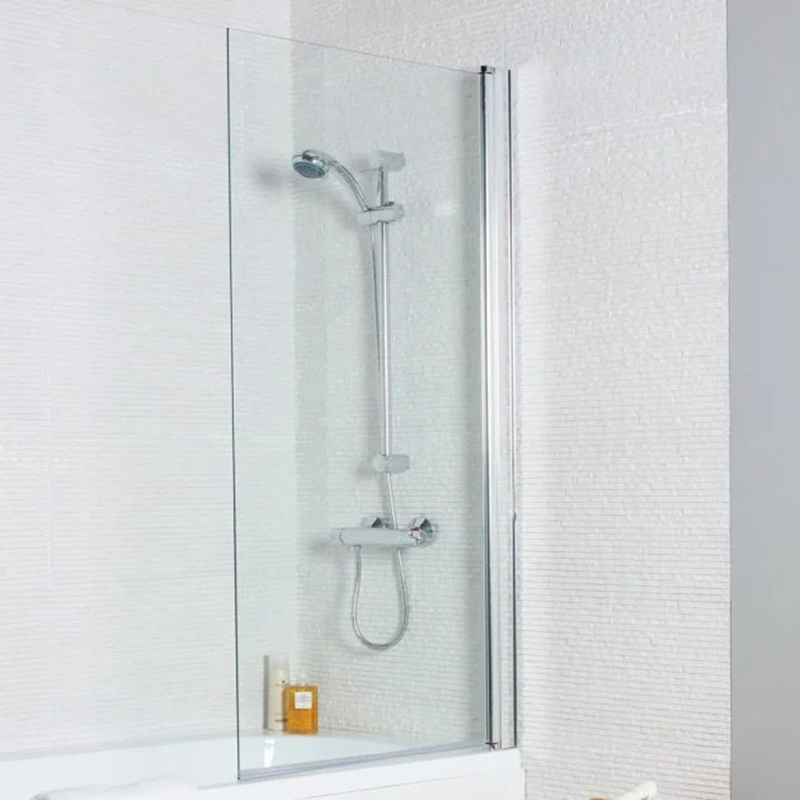 It is the best shower screen for a straight shower bath. It has square edges that are great to deflect splashes from a shower. If you are looking to add a modern touch to your bathroom in an economical way, then you should choose this type of screen. It can move on 90-degree rotation, allowing you easily get in and out of the bath on that side. The 6mm toughened glass of this shower ensures safety in case of accidental breakage. It has a polished chrome frame that makes it sturdy for long-term use with a standard power shower.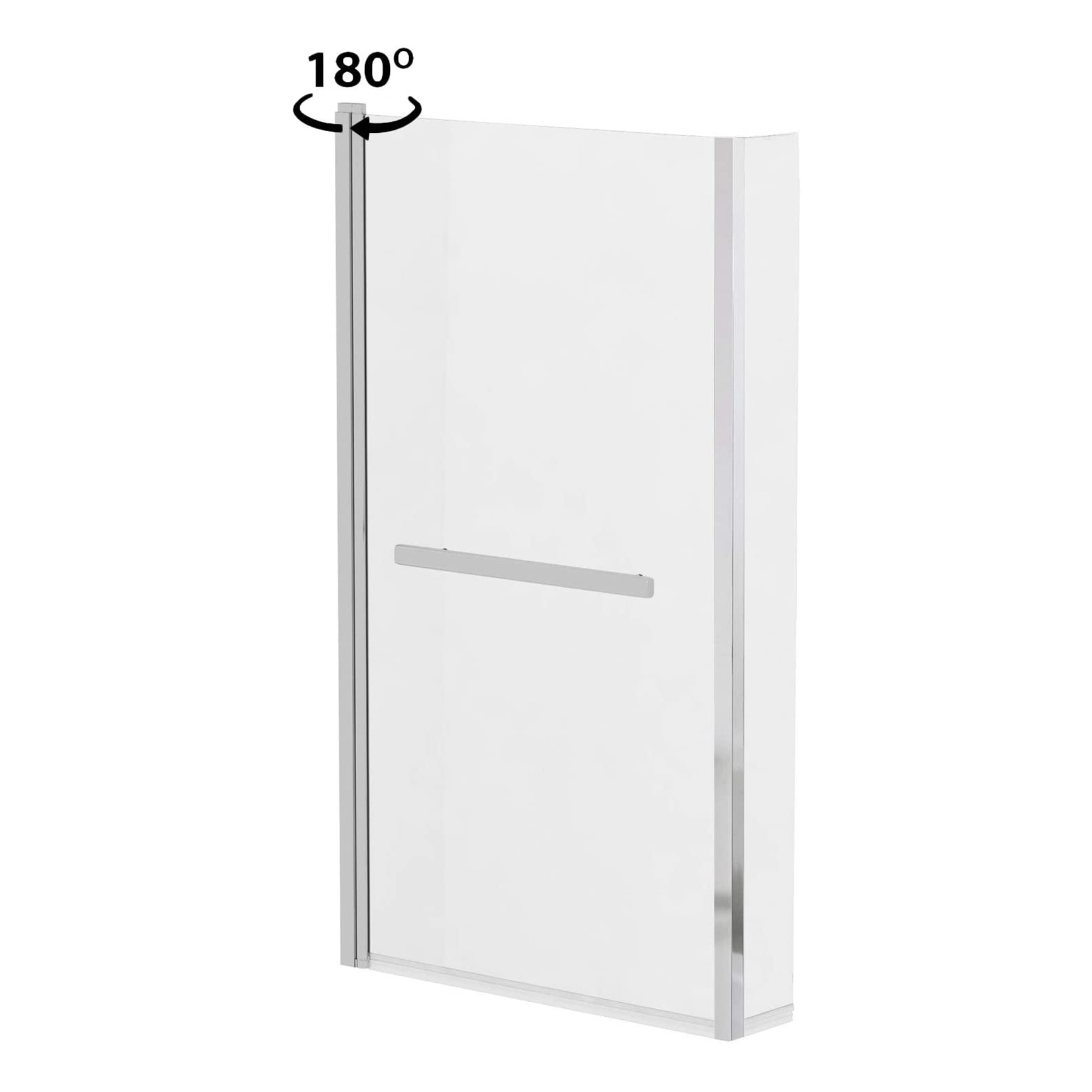 If you are looking for something that offers high-quality luxurious looks, then the Quattro Hinged Shower Bath screen can be a perfect choice for you. It moves on the hinges to 180 degrees and perfectly complements any square straight shower bathtub. Not only is has the best quality screen to deflect shower splashes, but it also transforms the look of your bathroom. The lifetime warranty from the manufacturer offers added satisfaction and peace of mind.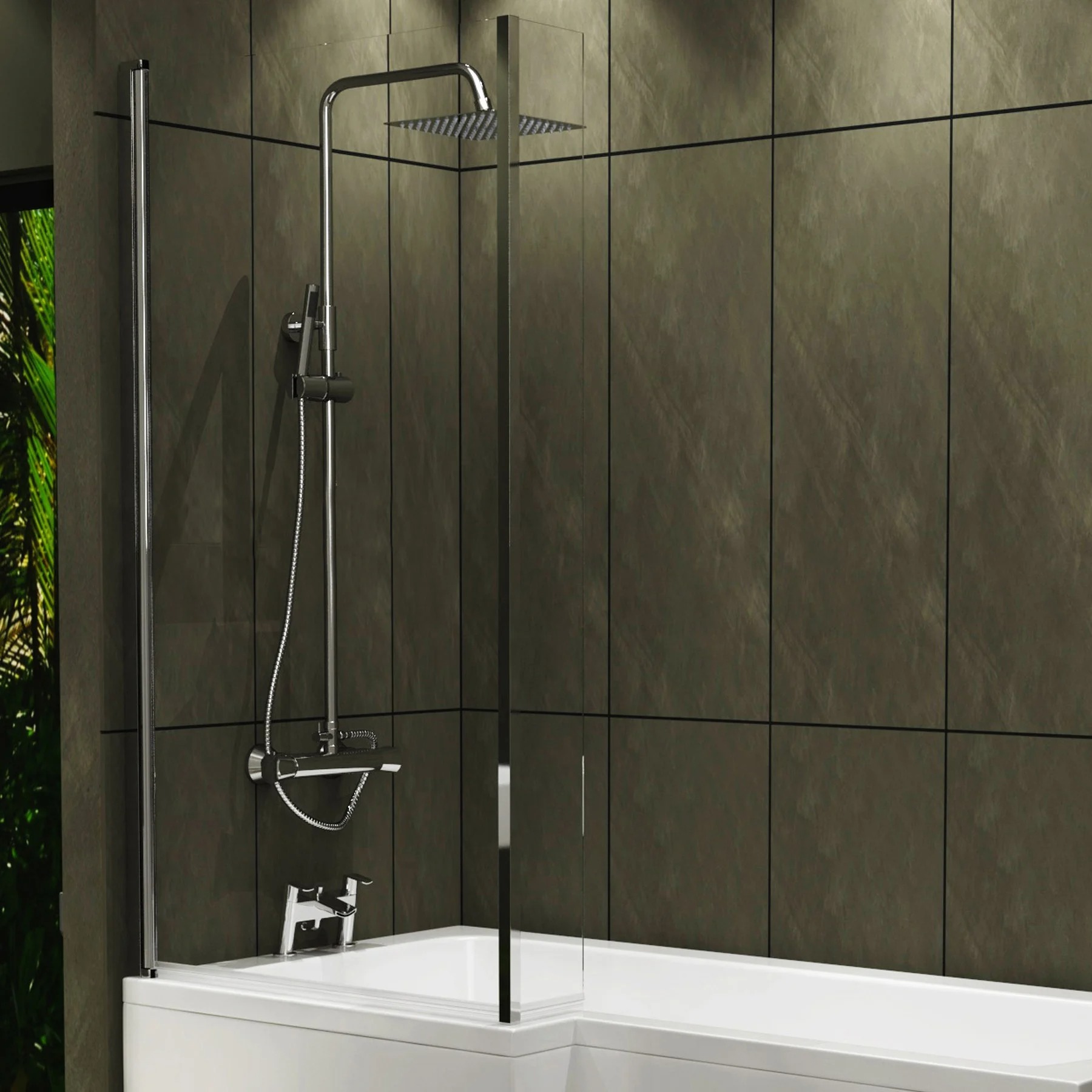 When you have limited but want a high-quality shower bath screen, then Nuie Quattro fixed panel is a great option for you. It is particularly suitable when you have a small bathroom where you don't want a screen that requires clearance space. You can use it with both a straight as well as L shaped bathtub. It comes with 5mm toughened safety glass for added safety and a polished chrome frame with metal caps for a highly durable structure. You can use it for splash protection from both standards as well as a power shower.


Which Shower Screen Should You Choose?
Your choice of the best bath shower screen highly depends on the type of shower bath you choose. Here we discuss where to fit what shape of a shower bath.
As it is clear from their name, straight bath shower screens are suitable for a straight bath. However, you can also fit them on L shaped bathtub for a sleek minimalist finish. These are a great solution for where you want a bath more accessible for the elderly and children. Other than splash proofing your bath area, these also add a touch of luxury and elegance to the overall bathroom look.
On the other hand, the foldable shower screens can also be a perfect fit for both l shaped and straight shower bathtubs. These are available in both inwards and outwards opening designs that can be a perfect space saver for bathrooms having a lack of space.
A sliding bath screen is another option that can be preferred if you want to completely cover your bath with a screen. It adds a touch of luxury to your bathroom with easy access to the bath.
Another choice you may have available is a curved shower screen that is a perfect fit for a p shaped bathtub. These are great for improving the overall look of the bathroom while fitting neatly to any curved area.
Choosing the Glass Types for a Bath Shower Screen
If you want to choose the best bath shower screen, it is important to choose the right type of glass for a panel. The shower panels are available in various finishes, as we discuss as follows. You should choose the design on the glass depending on your bathroom aesthetics requirements.
Bath Shower Screens with a Transparent Glass.
The simple, transparent glass shower screen is the most common type available in the market. As you can see through such glass that makes the bathroom look spacious, it is preferable for the small spaces. In addition to that, it is a classic design that can be part of both traditional and contemporary bathrooms.
Bath Shower Screens with Mirrored Glass.
The mirrored shower screen is suitable if you want additional privacy. It is great for people who want a mirror as well as a barrier between a bath area and the rest of the bathroom. Your small space will look bigger with it due to the reflection of the light through this glass panel.
Bath Shower Screen with Frosted Glass
Another option for a shower screen is the frosted type that has translucent glass. It is not possible to see through the glass. However, it let pass through some light, creating a bit spacious feel in the bathroom. Such glass panel is also suitable for creating a bit of privacy between the bath area and the rest of the bathroom.
Choosing the Best Bath Shower Screen Size and Glass Thickness
When it comes to choosing the size of the bath shower screen, it depends on your bathtub size and the pressure of the shower kit. Fortunately, bath shower screens are available in a range of widths and heights, helping you to choose the perfect fit for your bath. You will usually choose between a 1400mm or 1500mm shower screen depending on the size and shapes of the bath discussed earlier. Other than the size, you will also need to choose the bath shower screen thickness. You have the choice between 3mm to 8 mm thick tempered safety glass. The thicker the glass, the more luxurious it looks. However, it will become heavier and costlier too.


FAQs
What Size Shower Screen Do I Need for Bath?
The choice of shower screen size depends on the bathtub size and power of your shower kit. Generally, you will have options to choose from, ranging from 1400mm to 1500 mm. There may be variations in sizes depending on the shape of the screen panel you choose.
Can You Put a Shower Screen on a Freestanding Bath?
Yes, a shower bath screen can fit on the freestanding bathtub. However, their most common use is with straight shower baths. The customization for the shower screen is also possible to make them fit into any place you want.
How Long Does a Shower Screen Last?
The life span of a bath shower screen depends on various factors like glass type, care & maintenance, and glass thickness, etc. If it is a good quality glass screen panel that is properly maintained, then you can expect it to last around 15 years.
Are Frameless Shower Screens Good?
Both frameless and framed bath shower screens are a good option depending on where you use them. The frameless shower screen comes with thicker glass, which is necessary to make them sturdy and safe in that shape. That also makes it heavier and costlier.