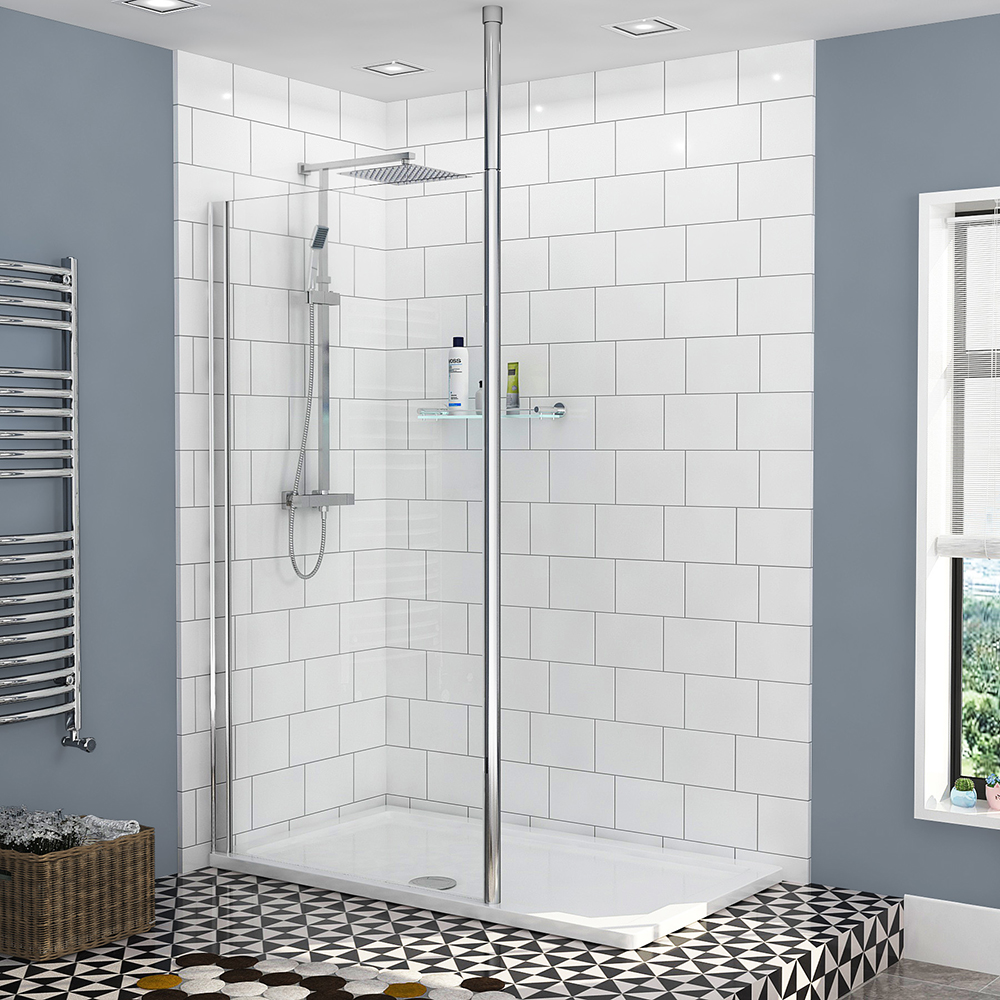 When it comes to bathroom DIY, it is better to approach it with caution. However, there are a few tasks that you can complete without any professional help. Fitting a shower screen can be a reasonably simple and easy task for a weekend DIY project. It will require you to know the fitting process along with basic skills to use tools and other helpful information to complete.
Our guide will provide you with all the information you need to know for a DIY shower screen fitting.
Few Things to Keep in Mind Before You Start
A bath shower screen can be heavy, making it difficult to hold steady while they are level. Therefore, it is advisable to have someone to help where and when required. If it is the first time you are installing a shower screen, then it can take up to 1-2 hours to complete. However, it will depend on your DIY skills and the type of shower screen you are going to install.
What Type of Shower Screen Are You Installing?
The shower screen installation method may differ depending on the type of shower screen. Our guide will mostly focus on fitting a shower screen on a bathtub.
Before you start, it is important to go through the manufacturer's manual.
There are the following types of shower screens available in the market.
Static or Fixed bath shower screen - These are the most common shower screens fixed on the wall from one side covering the bathtub till mid-point. These are not moveable and remain in a fixed position.
Hinged Bath Shower Screen - This shower screen can open 180 degrees both inwards and outwards, making getting in and out of the bath easier. You can choose for extra functionality of providing protection against moisture leakages from the shower bathtub. It comes in both framed and frameless styles, offering you great flexibility in style and design choices.
Foldable Bath Shower Screen - The folding style screens are easy to pull out when you want to take a shower and fold back afterwards. You should prefer it when you have limited space in the bathroom. In addition to that, these look good and contributes to the bathroom design.
Tools You'll Need for DIY Shower Screen Fitting
Electric Power Drill
Hammer
Bubble or spirit level
Sealant or Caulking Gun
Screw Drivers
Lead Pencil or a Marker
Measuring and Masking Tape
In addition to all the above tools, you should check the shower screen box for screws, screw caps, seals, wall channels, and wall plugs.
Expected Time for Completion
Step By Step DIY Process to Install a Shower Screen
Here are the steps that you will need to take to fit a shower screen.
Step-1 Remove the Old Shower Screen
If you already have an old shower screen in place, then the first step will be to remove it by following these steps.
Separate the screen from the metal channel on the wall.
Unscrew the screw with a drill machine from the wall channels.
Get rid of sealant and take off the channel from the wall.
Step-2 Preparing for the Installation Process
It is important to prepare yourself and the area for the installation. You will need to remove any residue and dirt from the wall and edges of the bathtub. So, the surface is ready for a new shower screen fitting. In addition to that, open the shower screen package and check all the content to ensure everything you need is in good condition. Make sure that you place the glass screen bit away from the working area, so you don't end up accidentally damaging it during the installation process.
Step-3 Wall Channel Cutting
A wall channel is what holds the glass shower screen panel. So, you will need to fit it first on the wall. But before you do it, cut it as per your requirements. Locate the most appropriate position where your glass panel should fit. Measure the length according to your panel and make a cut on the wall channel accordingly. In addition to that, position the channel track while keeping it straight with the help of a bubble level, mark the area for drilling the screw holes.
Step-4. Drill Screw Holes for Wall Channel Fitting
It is important to check for nearby electrical cables or pipes before drilling. So, you don't end up damaging anything during the process. The use of a multipurpose detector is advisable for this purpose. You can now start drilling the screw holes in marked areas with an electric power drill. Once it is done, you should place wall plugs into holes.
Step-5. Screw the Wall Channel
The next step will be to fix the wall channel. You should position it in accordance with the screw holes. Then tighten the screws with the screwdrivers. You can also use the power drill to do it. Complete this fixing in all screw holes one by one. Make sure that the wall channel is fully tight into its position as it will bear the weight of a shower screen.
Step-6. Fit The Shower Screen
Once you ensure that the channel perfectly fits on the wall, now place the glass screen into the channel carefully. You may need someone's help to do it securely due to its weight. It is also important to check the manufacturer's manual to ensure everything is in the position and working as it should be. If your shower screen comes with a towel rail or handle, you can install it now.
Step-7 Seal the Edges
At the final step, you will need to seal the edges of the wall channel with a sealant or calking gun. Let it dry for a few hours before you start using the shower.
Congratulation! Your Bath shower screen fitting is now complete.
Summing It Up
Installing a shower screen as a DIY project can help you save time and money. However, if you have never done any such thing before, then it is better to hire a plumber or bathroom fitter to do the job. Our instructions are for guidance only and should not be taken as an alternative to professional advice.
FAQs
Can You Install a Shower Screen Yourself?
Installing a shower screen is relatively easier in comparison to another fitting bathroom task. Therefore, it is possible to complete it as a DIY project over the weekend. However, you will need basic skills to use tools, the right guidance, and information to complete it yourself.
Can You Fit a Shower Screen to Any Bath?
Generally, you can fit a shower screen into any bathtub. It includes straight baths, shower baths, and freestanding baths. However, these are more beneficial when installed with the shower bathtubs to avoid water splashes.
How Long Does It Take to Fit a Shower Screen?
The time required to fit a shower screen depends on your skills level and the type of shower screen you are fitting. If it is a bath shower screen, then it will take between 30 to 60 minutes. Other types of shower screens may take between 2 to 3 hours to complete.
Can You Put a Shower Screen on a Freestanding Bath?
A shower can be installed with a freestanding bathtub in the same way as for a shower bathtub. However, it will be only possible when you place a freestanding bath along the wall, so you can fix the shower screen on it. However, there are many customizable shower screen solutions available that will make it possible for you to put a shower screen on virtually any bathtub.
How Long Does a Shower Screen Last?
There is no fixed duration for which a shower screen should last. It depends on the quality and its maintenance. However, a rough idea can be around 20 years if looked after properly.