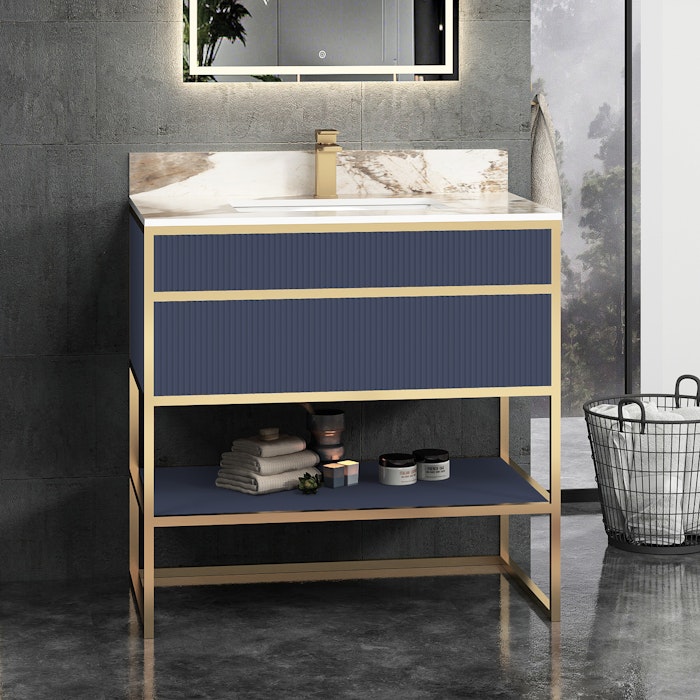 Vienna Navy Blue Push Drawer Vanity Unit with Brass Frame & Pandora Marble Top
View More Details
Free
Standard Delivery in 2 - 3 Working Days
£9.99
Express Delivery in 1 Working Day
*For express delivery order before

2pm
Product Details
Vienna 600/750/900mm Navy Blue Push Drawer Vanity Unit with Brass Frame & Stone Top - Sink
Experience an exquisite fusion of modern elegance and timeless sophistication that transforms your bathroom into an exclusive sanctuary of unparalleled luxury. Drawing inspiration from the finest architectural and interior design masterpieces, this unit combines the enchanting allure of classic Greek architecture and the bold confidence of Art Deco with the finest craftsmanship of today.
Bask in the soothing ambiance of your personal haven, allow this enchanting fluted design, captivating Pandora marble, and striking satin brass framework to sweep you away to a world where opulence and refinement reign supreme. This breathtaking statement piece is a testament to your impeccable taste, embodying the essence of the extraordinary and the exceptional.
The lavish navy blue finish, coupled with a luxury gold frame, will add eye-catching elegance to any bathroom space.
Designed for those who seek the perfect harmony of beauty and functionality, this floor standing vanity unit with brushed brass frame effortlessly elevates your daily rituals into moments of indulgent self-care. Envision yourself immersed in a world of elegance, where every sensation is an exquisite symphony of luxury. Every glance at its artful design is a reminder of your well-deserved escape from the ordinary, as you immerse yourself in an experience that transcends the boundaries of the mundane.
Embrace the captivating charm of the Vienna Vanity Unit, and allow it to unlock the door to a world where your desires know no bounds and your bathroom becomes the epitome of sumptuous serenity.
Features:
Countertop made from stunning sintered stone

Sintered stone is an exceptional choice for bathroom furniture. Made from natural raw materials, it replicates the beauty of natural stone and is a sophisticated addition to your space. What's more, its superior resistance to scratches, stains, and heat, makes it the perfect surface for your daily bathroom routines

Vanity Unit Made from Plywood Material to ensure longevity
Fluted Design with Gold Frames ideal for an Art deco inspired bathroom
Finished in Navy Blue for extra style
Subtle soft close Push Drawers
Countertop finish Pandora
Undermount Ceramic sink for a clean aesthetic
Undrilled tap hole you can either drill for Deck Mounted tap or opt for Wall-Mounted
Generous storage space
Depth: 560mm
Width: 600/750/900mm
Height: 890mm
Fully Assembled for hassle-free installation
5-year guarantee for your peace of mind
Note: Due to the natural characteristics of sintered stone - the Vanity Unit may exhibit very subtle variations in countertop design, adding a unique touch of distinction.
Package Includes:
1 x Brass Frame Vanity Unit
1 x Marble Worktop With Ceramic Sink
1 x Backsplash
Product Specifications
| | |
| --- | --- |
| Brand | Royal Bathrooms |
| Range | Vienna |
| Type | Floor Standing |
| Style | Modern |
| Finish | Navy Blue |
| Unit Material | Plywood |
| Basin Material | Marbel |
| Unit Height | 890mm |
| Unit Width | 600/750/900mm |
| Unit Depth | 560mm |
| Number of Drawers | 1 |
| Basin Type | Undermount |
| Colour | Navy Blue |
| Basin Depth | 460mm |
| Top Finish | Pandora |
| Unit Colour | Blue |
| Guarantee | 5 Years |