Reversible Enclosures a must Need for Your Bathroom
Reversible Enclosures a must Need for Your Bathroom
Choice for Shower Enclosures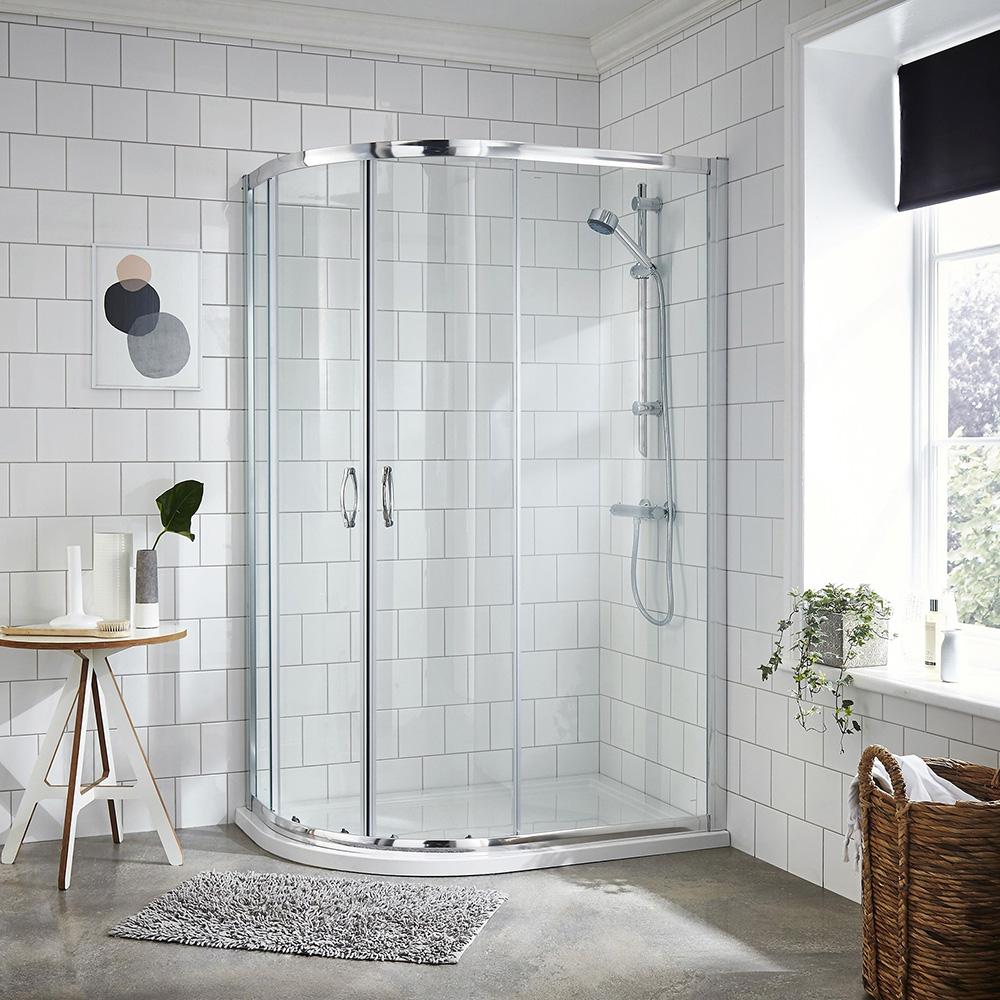 There's a vast choice of shower enclosures to choose from, including large walk in enclosures, wet rooms and additional enclosures such as quadrant shower enclosures. You can find the perfect model for you and your bathroom.
Position
It's significant that you should think and decide about place of enclosure. What should be position either in the corner, center of the wall or in a separate enclosed area? This will have major impact on the type of shower tray with type of enclosure door you require. For example, if you opt for a central position against a wall you may require a D shape shower enclosure to fill that space accurately.
Contemporary Quadrant Shower Enclosures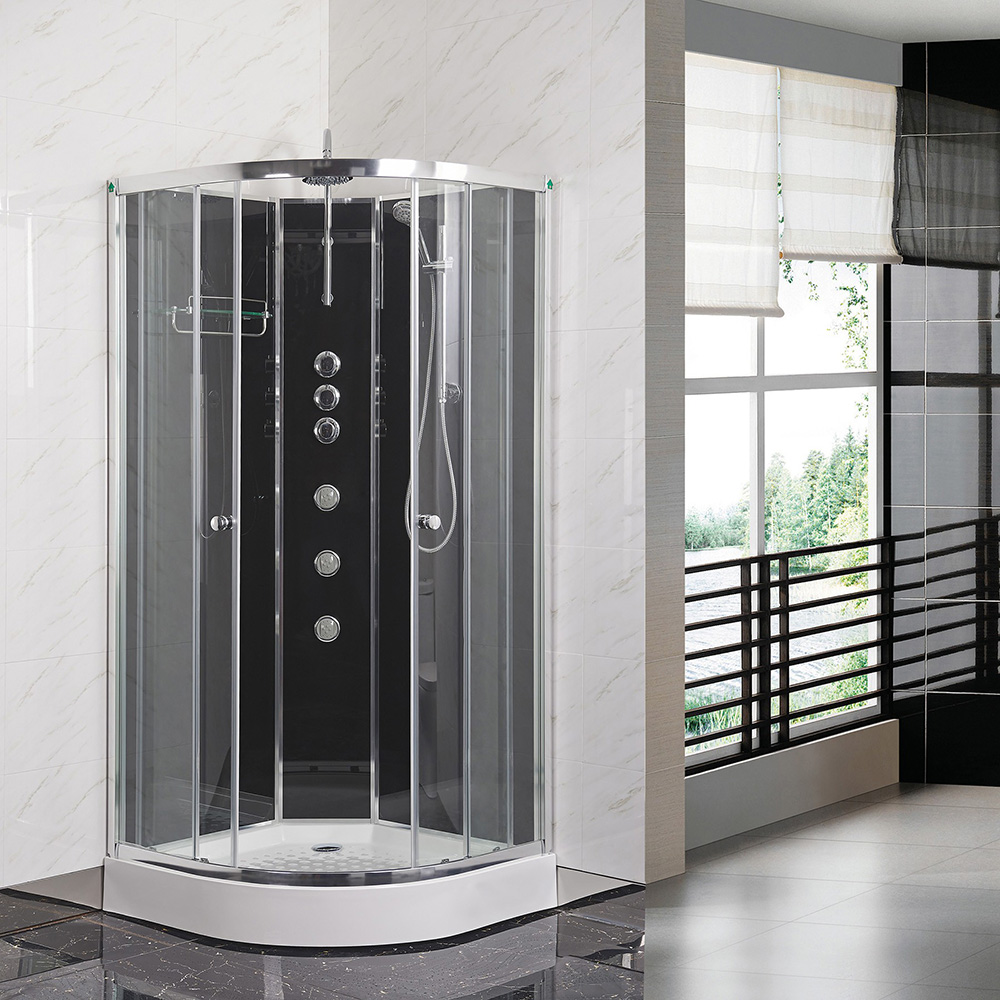 Quadrant shower are a marvelous replacement to customary square or rectangular shaped cabins. These are ideal for bathrooms where space is at a premium or where you want a cool, modern look and a corner entry shower enclosure. In this picture this shower enclosure has a fabulous selection of luxury quadrant shower enclosures and kits which gives a true elegant with lavishing look to any type of bathroom. Each has been selected for its clean curves with exceptional workmanship while these versatile designs can complement all types of décor presented in bathroom.
Traditionally a curved shower enclosure with tray would be placed in the corner of your restroom to maximize the use of your space. But royal bathrooms also stock D shaped enclosures that can be placed against a flat wall. Our offset quadrant shower enclosures differ slightly from a regular curved corner shower cubicle as one side is extended giving you even more room to enjoy your bathing time.
Offset Quadrant Enclosure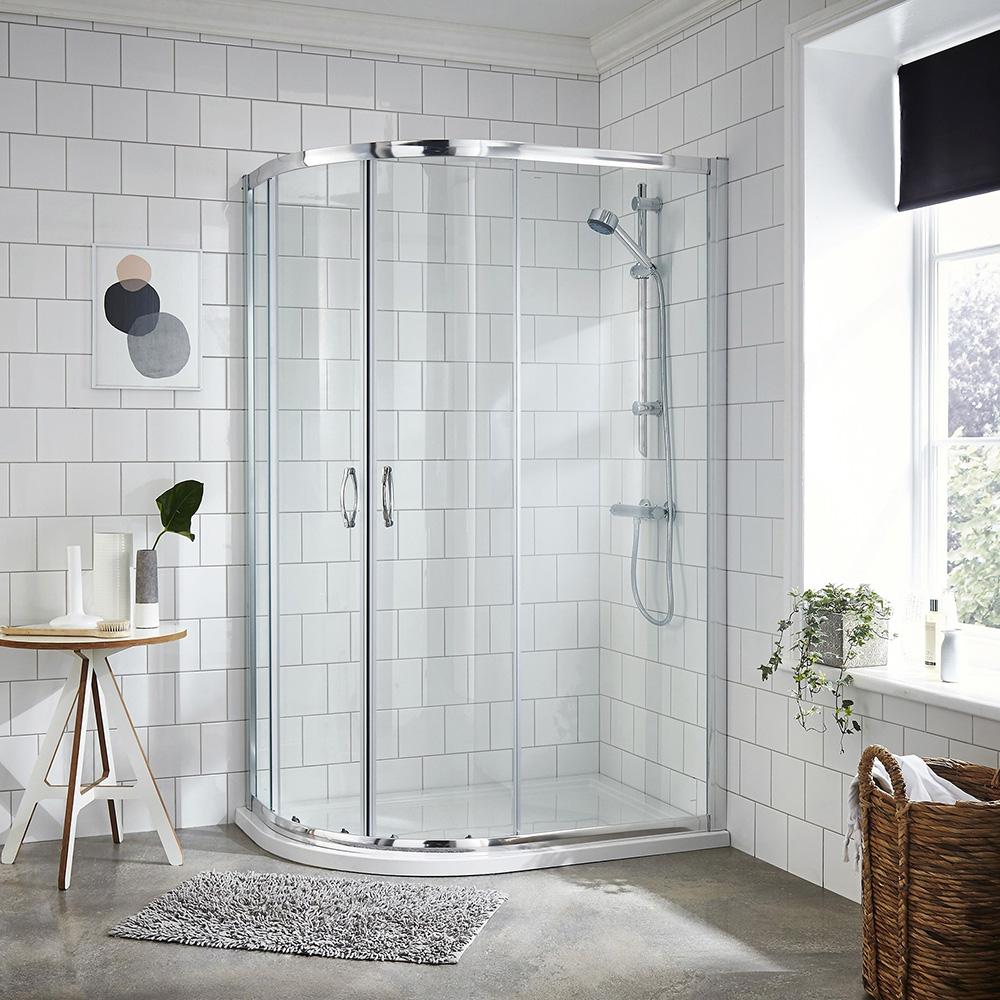 This is 1100mm x 800mm Offset Quadrant shower Enclosure is fully reversible with both right & left hand shower trays. This enclosure features are compatible with 6mm toughened safety glass while it quickly releases doors, allowing for easy cleaning. This cubicle comes with easy fitting while it also allows for a quick & simple installation. The twin polished chrome shower doors are fitted with dedicated chrome handles while it open & close with comfortably. To allow for out of true walls it complete with 2 x adjustable wall profiles that allow the enclosure to be adjusted between 1060 to 1080mm and 860 to 880mm. When doors are fully open there is an opening of 455mm space.
It includes the following Features
A polished chrome frame for fantastic look.
Reversible enclosure, suitable for both left & right handed shower trays.
Quick release wheels are available for easy cleaning.
6mm toughened safety glass
The shower tray sold separately
Its adjustment is 1060 - 1080mm & 860 - 880mm
Its height is 1920mm
Lifetime Guarantee
Discount up to 40%
365 days exchange policy
Next Day delivery is available
Free Delivery is available (T&C)