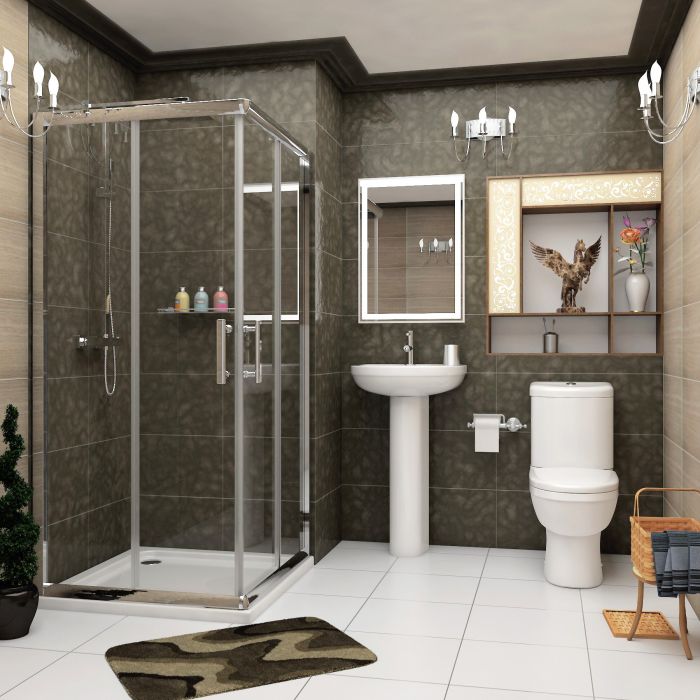 Bathrooms are the most neglected place in a home, but currently, it is getting the attention of people because of trends of hosting guests at home following prevailing normal of hospitality. Guests must use a bathroom that must be abundant with stylish bath furniture to give a luxurious look and expression.
1) Measurement of bathroom
On the initial level, you need to get the exact idea about the analysis of your cloakroom. If you do not have the precise size of the bathroom, you can never get a perfect closure shower.
1.1) For large bathroom spaces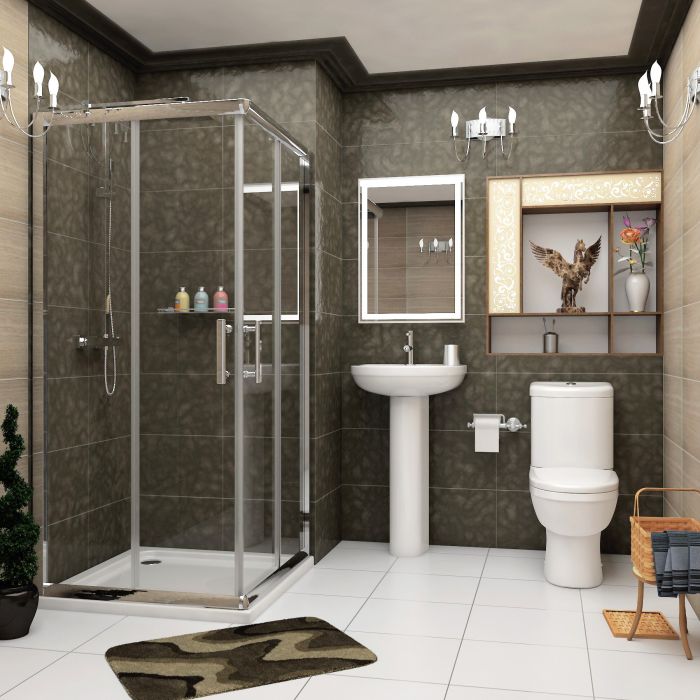 Some people have a large bathroom. They pay their special attention to beautify their bathrooms by adding various types of bathroom furniture. You should not at all put away the different products of Royal Bathrooms, which are specially made up of large bathrooms in different sizes and shapes for the best cause of customers. Some of the products are below;
Ella 5mm Rectangular Bi-Fold Shower Enclosure
Plaza 6mm Corner Entry Shower Enclosure pearl stone Tray
So, come to invest in a shower enclosure.
1.2) For small bathroom spaces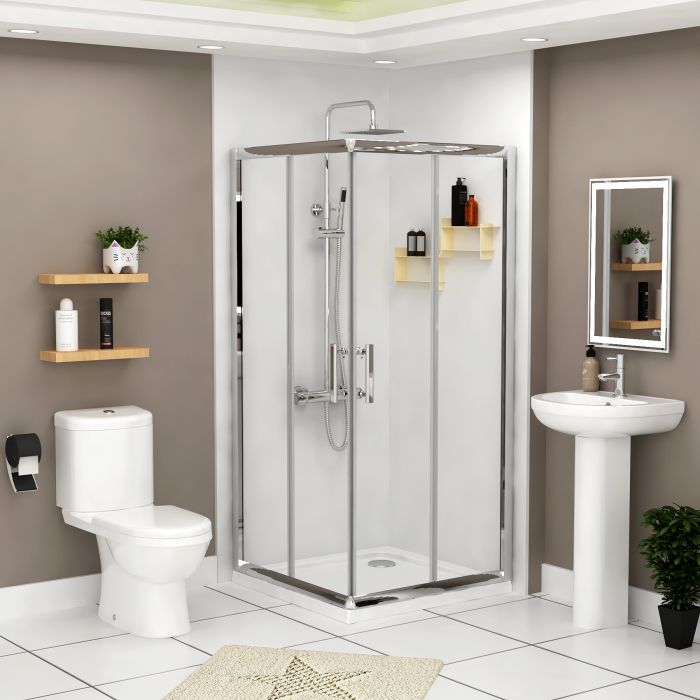 Mostly, people do not want to reserve sample space for their bathrooms. They prefer to give a major part of house land to other rooms. Some do not have enough to build a large cloakroom. The question arises in this situation that which type of closures are perfect for small bathrooms suites offers many shower closures for small bathrooms. Some of the products are as below;
Opus 5mm Carbon Black Quadrant Shower Cabin
Imperial 6mm Quadrant Enclosure with pearl stone Tray
2) Easy fitting patented assembly system for immediate installation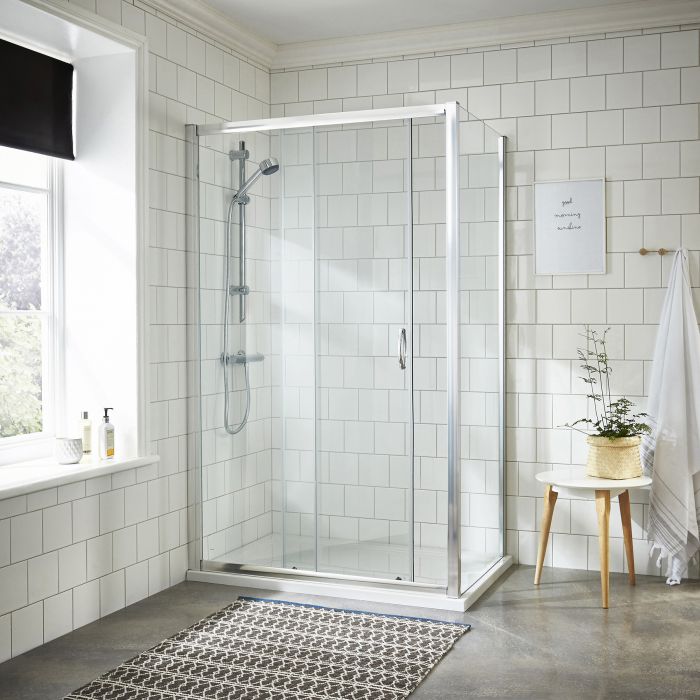 Fixing shower enclosures some time takes much time than expected. However, Royal Bathrooms follows the secure fitting patented assembly system that is unique and easy to install. This unique system enables the fitter to assemble the door quickly. Royal Bathrooms endeavors to save your precious time as much as it is possible. That is the reason that the easiest construction process follows.
So, Invest in the shower enclosures and save your time!
Shower enclosures are the most profound items of bathroom furniture as people must use them by holding in hand. Important categorization of the shower enclosures is as below;
The Ella folding shower door is a two-part folding door that features 5mm toughened safety glass. The sturdy frame has a satin chrome finish with inward opening bi-fold door to save space creates a difference. Folding shower doors are great for showers as well as for bathroom furniture with less space, as less room is need for a full door's range of movement. This folding door will allow easy and safe access in and out while maximizing space.
It comes in the online store with lifetime guarantee available!
Ella 5mm Rectangular Sliding Shower Enclosure with Pearlstone Tray
Ella 5mm Rectangular Sliding Shower Enclosure
2.1) Products Features & information
Satin chrome frame
The reversible bi-fold door opens inward to save space
5mm toughened safety glass
Suitable for use with side panels or within a recess
Lifetime guarantee
3) No shrinkage, warping or twisting with Walk-in Enclosures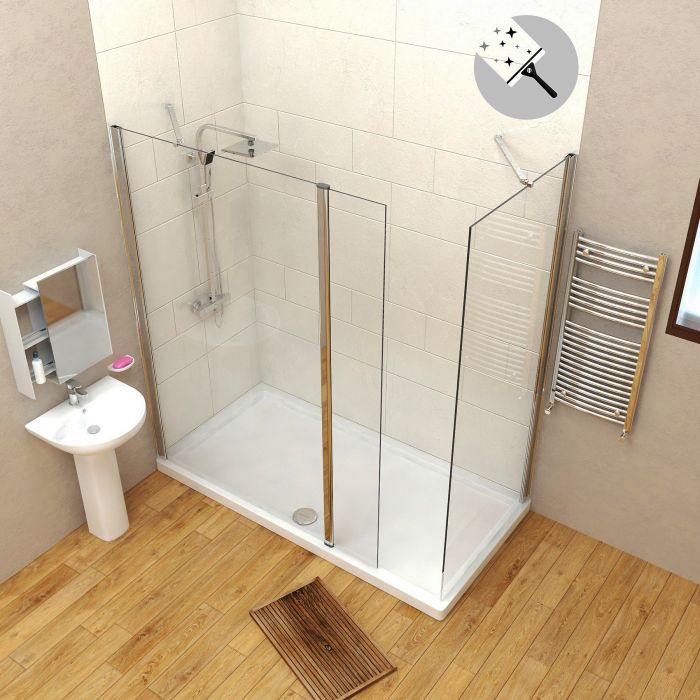 Sheer panels of 8mm thick by 1850mm high glass provide the illusion of space in even the smallest wet rooms. Following standards, each group is finished with 'Clean & Clear' clean glass treatment. This treatment creates a 'non-stick' surface that resists limes scale build-up and water spots making the shower screens easier to clean and maintain the appearance of the screen. Add the walk-in shower enclosures UK part of your bathroom furniture.
Marbella 8mm Easy Clean Walk-in Wetroom Screens
Marbella 8mm Wet room Walk-In Enclosure with Pearlstone Tray
Marbella 8mm Wet Room Enclosure Glass Panels with Flipper Panel
3.1) Features of Walk-in Enclosures
Innovative encapsulated baseboard for added strength
No shrinkage, warping or twisting
strong & durable
The encapsulated baseboard gives screw retention for easy fitting of feet
4) Double Sliding Doors for elegance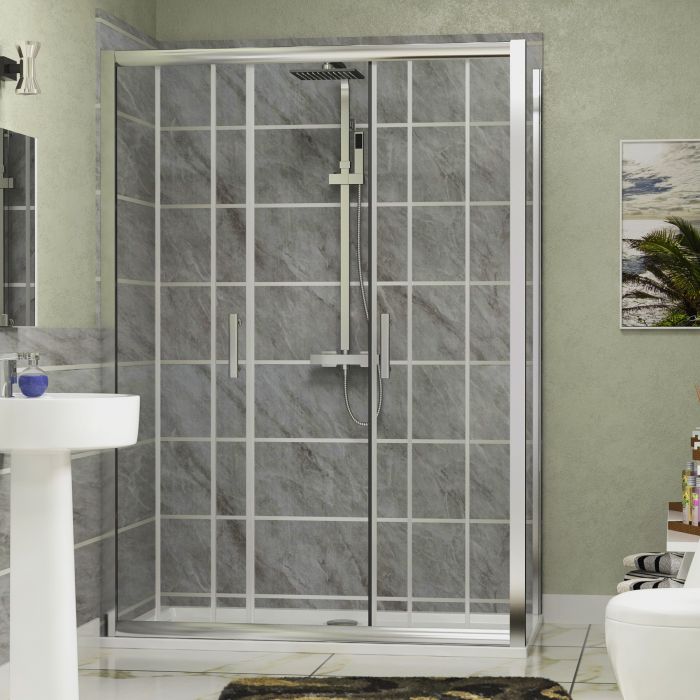 The Premier pacific Bi-fold shower enclosure 4mm glass is a model from the pacific range of shower enclosures. This Premier pacific Bi-fold shower enclosure makes a powerful statement, transforming your bathroom into more luxurious and stylish manners, which give your bathroom that extra boost in beautification.
Cube 6mm Pivot Square Enclosure
Cube 6mm Pivot Square Enclosure with Pearlstone Tray
Ella 5mm Rectangular Pivot Enclosure with Pearlstone Tray
4.1) Features of Square Shower Enclosures
Patented Easy fit profile assembly system
The reversible bi-fold door opens inward to save space
Hidden fixings
Polished chrome frame
5) Really, thinking to fix magnetic door seals in bathroom?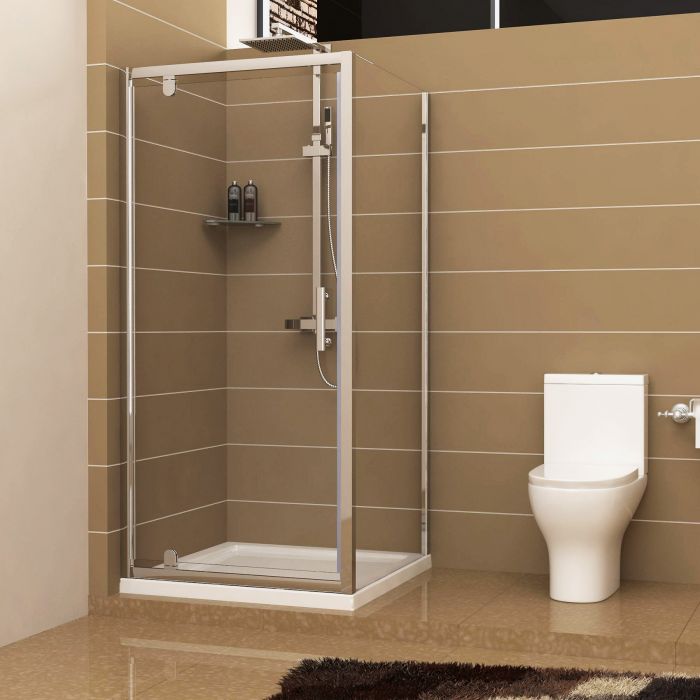 Cube shower enclosure possesses many features that differentiate it from other products of the category of Shower Enclosures. These features are a hinged pivot shower door and polished chrome frame, which make its important in the eyes of customers as it looks cool because of the addition.
5.1) Qualities of Cube Shower Enclosures
Hinged Pivot Shower Door
Reversible Door - Can be fitted to open from either right or left side
Polished Chrome Frame
6mm Clear Safety Tempered Glass
Height 1850mm
6) How to make bathroom trendy?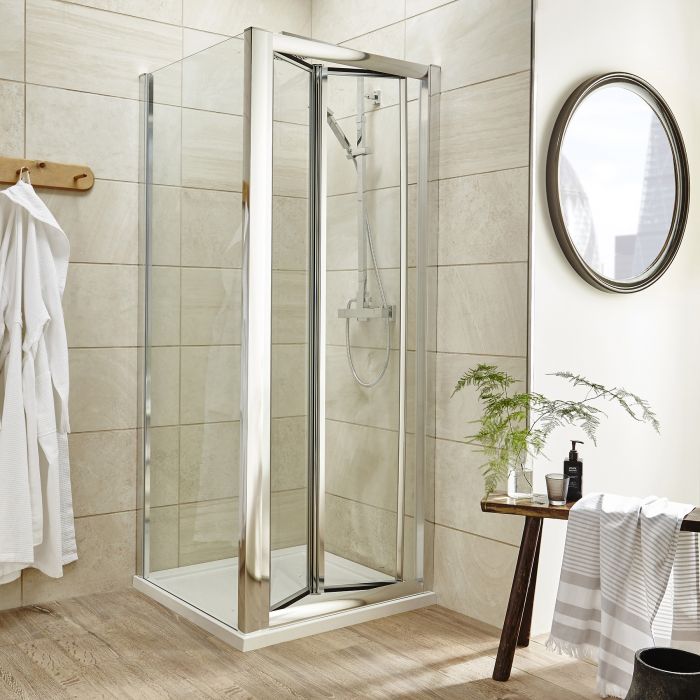 The rectangular shower enclosure category is the magnificent contribution of Royal Bathrooms with a wide range of features that are desired by customers. Sliding shower enclosure in different sizes and forms is brought out in the below products, which attract customers with storage solution and feature of pearl stone tray.
Ella 5mm Rectangular Sliding Shower Enclosure with Pearlstone Tray
Ella 5mm Bi-Fold Shower Enclosure
Ella 5mm Bi-Fold Shower Enclosure with Pearlstone Tray